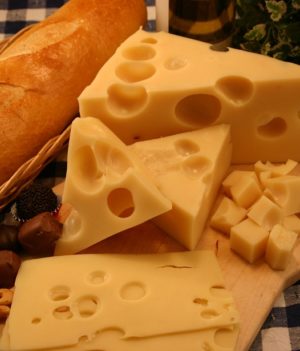 We are huge fans of Swiss cheese here at Shisler's Cheese House. We have a whole range to keep you happy and today we're giving you 5 ideas for ways to enjoy Swiss cheese.
The process of making Swiss cheese involves natural bacteria consuming the lactic acid in the cheese. This releases carbon dioxide gas, which slowly forms bubbles that become the recognizable holes in the cheese. These are often referred to as "eyes". Our Amish swiss cheese, made in Northeastern Ohio, is especially flavorful because of the longer aging process that it undergoes, at a higher temperature than younger cheeses. This produces larger eyes, which is sometimes seen as an indicator for better flavor.
The milk used in our Swiss cheese does not have preservatives added, and is from cows that have never been given hormones or antibiotics. This creates a great taste and you know exactly what you are eating.
We also offer Baby Swiss, which substitutes water for the milk's whey to slow the bacterial action. This creates smaller holes and a milder flavor. Lacy Swiss is another variety of Swiss cheese, made with low-fat milk. We even offer smoked Swiss cheese.
On Crackers
Swiss cheese is well known for its nutty, bittersweet taste. This is perfect enjoyed on your favorite crackers. Add a couple of other cheese, some grapes, and relishes, and you've got a full cheeseboard.
Paired with your favorite wine or beer
This is such a versatile cheese that you can easily find a beverage pairing for it. If you're a fan of red wines, try a Merlot or Pinot Noir. For white wine lovers, try a Chardonnay or Riesling. Swiss cheese will also pair well with lager, pale ales, and Weiss beer.
Cheese Fondue
Fondue is a decadent treat that's perfect at the end of a cold day, or to share with friends and family. Simmer 10 fl. oz. white wine in a fondue pot, before adding 10 oz. each of Swiss and Gruyere cheese. Make sure everything is melted before stirring in 2 teaspoons flour. Season with salt, pepper, and nutmeg. Serve this with cubes of your favorite bread, chopped vegetables, and cured meats.
Mac and Cheese
Add an extra punch of flavor to your favorite mac and cheese by grating in some Swiss cheese. You can even add it to breadcrumbs for an extra crunchy topping.
On French Onion Soup
A firm favorite for warming you up, French onion soup is incomplete without a topping of Swiss cheese toast. Thinly slice small pieces of your favorite bread, add grated Swiss cheese and grill before serving with your soup.
If you love Swiss cheese as much as us, why not treat yourself this to our gift box this Christmas?  You'll find a whole 4lb. Baby Swiss cheese, perfect to share with the whole family.
However you like to eat your Swiss cheese, you can find it all here at Shisler's Cheese House!
As many know, there truly is no "Swiss Cheese" in Switzerland. In Switzerland, they make a variety of "Alpine" cheeses, with some having large holes. The most notable of these cheese is Emmentaler.
During the late 19th and early 20th centuries, many of the Swiss cheese makers began to move to Wisconsin and settled in the "Dairy Belt" of Green and Dodge Counties. Originally, they made large wheels of cheese (3 feet wide, 125 pounds) patterned after the Emmentaler of Switzerland. Naturally, these became known as 'Swiss Cheese.'
As the trend changed to larger cheese factories, a broader market and wider distribution, the call for a smaller cheese with milder flavor began to arise. This was soon addressed with the development of this much smaller cheese made with full fat milk that was aged only a few months. Although this new cheese was not that small at 5 lbs, compared to the much larger Emmentaler cheese, it is truly a baby.
A bit of history:
The driving forces in Baby Swiss evolving into a true "made in America" style cheese, were two Wisconsin cheese makers.
They were Eldore Hanni and Alfred Guggisberg, who were both of Swiss background (as can be seen by their names here).
Eldore was second generation Swiss, living in the heart of dairy country in Wisconsin, where much of the cheese making was of Swiss and German influence. Alfred moved to Pennsylvania from his home country- Switzerland.
Alfred
Guggisberg was only 16 when he began to make cheese in the mountain pastures of Switzerland (the Alps). He furthered those skills at the famous Swiss cheese maker's institute before coming to the United States in 1947. Here, he settled in the Doughty Valley in Charm, Ohio to work with the Amish farmers as a cheese maker. By the 1960's, Alfred had developed a new style of cheese, which became the Baby Swiss cheese (1968). This was patterned after the Emmentaler of his homeland, but was much smaller and made with a richer milk. His focus in doing this was to develop a milder flavor for the American palate. Today, the Guggisberg cheese company is still thriving.
Eldore Hanni was a second-generation Swiss immigrant, who began making specialty cheese as a teenager (he managed a cheese factory at the age of 17). His strength was developing new recipes and in the early 1970's, Eldore began working on a recipe for Baby Swiss. Later in the 70's, he moved to the Amish area of central Pennsylvania to establish his new dairy and work with the milk of the Amish farmers. This eventually became Penn Cheese which flourishes to this day, although Eldore has retired.
There was a similar and parallel evolution for both men in developing this cheese.  It resulted in a cheese with smaller holes and a creamier flavor from the use of full fat milk. It did not need to age as long and hence had a milder flavor.
What is a Baby Swiss:
In Switzerland, there is no 'Swiss' cheese, because there is a wide range of Gruyere and Emmentaler style cheese. Essentially, these can be divide into those with or without holes. In America, we call anything with holes Swiss Cheese. Most of these have origins in the dairy counties of Wisconsin, where many German and Swiss immigrants settled with their cheese making skills.

The "true" Swiss cheese is Emmentaler (never called Swiss), a cheese made in Switzerland under an Appellation of Controlled Origin to ensure that the integrity of the cheese is maintained. The technique, however, has been duplicated in numerous nations, leading to generic "Swiss" cheese for sale in many nations.
But this is a Baby Swiss Cheese…
The flavor of 'Baby Swiss' cheese is buttery, nutty, and creamy. The cheese melts very well, making it suitable for a wide range of dishes. The small holes also make the cheese easier to work with, since especially large holes can pose problems in salads and other dishes which involve slices of the cheese. Some delis also label baby Swiss cheese as 'Lacy Swiss,' since the cheese looks like fine lace, but those are actually made from a lower fat milk.
How is this cheese made:
This is a cow's milk cheese made with a mixture of bacteria. Besides the normal lactose converting bacteria, it contains another special propionic bacteria that breaks down the lactic acid in the cheese and generates carbon dioxide, which forms bubbles in the cheese as it ages. This is quite similar to bread dough rising but takes much longer.
The longer the cheese is allowed to age, the more complex the flavor gets, and the larger the holes will become.
One of the primary steps in making this style of cheese is a very slow conversion of lactose to lactic acid.
This is accomplished by:
Controlling the amount of culture and ripening time.
Removing whey and replacing with warm water early in the process to limit the culture's food supply (lactose).
This will result in the very elastic curd structure, and functions to hold the gas in the cheese as the holes develop. This is most obvious in the finished cheese, with round glossy looking holes and the elastic ability to bend the cheese slices without it breaking.
To make 'Baby Swiss' cheese, several things about the cheese making process are altered from traditional 'Swiss:'
The cheese is made with whole milk, for a richer, buttery flavor.
It is usually a much smaller wheel of cheese, about 5 pounds.
The use of a Mesophilic rather than a Thermophilic culture is used.
The milk may also be cut with water, which slows the bacterial activity.
Most importantly, Baby Swiss cheese is aged for a very short period of time, so that the holes do not have time to grow very large. The shorter curing time also results in a more mild flavor, which some consumers prefer.
Be sure to stop by Shisler's Cheese House and pick up some Baby Swiss Cheese on your next stop!
There is nothing more satisfying than biting into a slice of semi-soft, young, fresh baby Swiss cheese made from whole milk. The characteristic small holes make this cheese all the more exciting and unique.
Baby Swiss cheese is a part of the Swiss cheese family that is known all over the world as the holey cheese. You can find this cheese at retail stores and delis, mostly in Ohio. To make it convenient for you to use it in sandwiches and other recipes, this cheese is sometimes sold pre-sliced. If you want it for larger cooking projects, you can buy baby Swiss cheese in wheels.
Swiss cheese is made from cow's milk. Lactic acid in the cheese is broken down using bacteria to generate carbon dioxide which in turn results in the formation of bubbles during the process of aging. To obtain larger holes and complex flavors, the cheese is allowed to age for a longer time.
Many steps are altered during the cheese making process to make baby Swiss cheese. To obtain that exquisite, buttery rich flavor, whole milk is used to make the cheese. In order to slow down the bacterial digestion process, water is used to cut the milk. As compared to traditional Swiss cheese, baby Swiss cheese is aged for a shorter period of time to create the more mild flavor.
Bite into a bit of baby Swiss cheese and what will strike you first is its creamy, nutty and buttery flavor. This cheese is ideal to be used in a wide range of dishes and also melts quickly in the mouth. It is easier to work with this cheese as it comes with small holes and is easy to slice. The small holes make cooking with baby cheese enjoyable.
If you are planning to use this cheese for cooking purposes, it is essential choosing evenly colored ones with holes that are equally sized. The cheese should have a distinct buttery aroma and should resemble a pale straw. Before you buy the cheese, it is better to taste if the shop allows it as this is the only way to determine its quality. Otherwise, you must carefully observe for signs of cracking, mold and dampness. All these are indications that the flavor has been compromised.
Baby Swiss cheese can be layered with turkey, lettuce, ham, sliced onions and tomatoes on dark rye, light rye or wheat bread. Using this cheese you can make mouth-watering sauce for your steamed vegetables. Try the delicious French bread filled and baked until bubbly with chopped scallions and shredded baby Swiss. You can also enhance frittatas, omelets and quiches with this amazingly delicious cheese.
What's your favorite use for Baby Swiss cheese?
[youtube=http://www.youtube.com/watch?v=6zyzyiNzOqA&feature=player_profilepage]
[youtube=http://www.youtube.com/watch?v=_hjYzEMf4ZY]
Here is a video demonstrating the difference in the Amish Cheesemaking process.  Video footage courtesy of one of our principal local cheese suppliers, Guggisberg Cheese. Here are links to the cheeses described in this video:
Swiss Cheese
And you can find over 60 other cheeses, including several others produced by Guggisberg Cheese at: https://cheesehouse.com/cheese.aspx