We've put together 3 recipes for a great barbecue marinade that will make your summer events more fun than ever. Read on to find out how to easily elevate your barbecue to the next level.
Homemade BBQ Sauce
This is an absolute classic but it's even better when you make it from scratch. You can marinate meat in it to add flavor and then you can add even more when the meat is cooked. It's a long list of ingredients but it's well worth it.
It works well with most meats, but ribs will be exceptional.
1/4 c.
apple cider vinegar
1 tbsp.
Worcestershire sauce
1. Combine all of the ingredients over a medium heat.
2. Bring to the boil, then simmer until the sauce becomes thick, stirring occasionally. This should take up to one hour.
3. Let it cool before use. Store in an airtight container in the fridge until you are ready to use.
2. Pineapple marinade
This spicy marinade has a tropical feel. Use it on chicken or turkey.
1 c. pineapple juice
1/2 c. ketchup
1/4 c. soy sauce
1/4 c. brown sugar
A squeeze of lime juice
1 small chopped chill – taste a small portion to test the spice. If it is hot, leave the seeds out, but put them in if you like it spicier.
1. Combine all of the ingredients in a bowl. If the sugar is not combining, try gently heating the mixture.
2. Let it cool before use. Store in an airtight container in the fridge until you are ready to use.
3. Middle Eastern style marinade
Perfect with mezze dishes, this marinade would work well with chicken or even on vegetables if you want to add some vegetarian elements to your barbecue.
1/2 c. olive oil
1/4 c. lemon juice
3 cloves of garlic, crushed
1/2 tsp. ground cardamom
1/2 tsp. ground cinnamon
1. Combine all of the ingredients in a bowl.
2. Store this in an airtight container until ready to use.
The key with a marinade is to get everything into it nice and early. If you can put the meat in the day before then that is even better. Make sure it is completely coated in the marinade and then return everything to the fridge overnight to absorb the flavors. Do make sure that the marinade was cooled beforehand to avoid the risk of slightly cooking the meat.
With meats such as beef, pork or lamb, you may want to tenderize them slightly as they go into the marinade. This means slightly pounding the meat to help it absorb all of the flavor.
When you are ready to cook, let the marinade drip off slightly so that it does not burn on the barbecue. You may want to use a griddle mat to avoid this. Ensure that everything is cooked through and serve it with plenty of salads and cold drinks. That little bit of extra effort will certainly be worth it!
Which of these marinades will you be trying? Let us know in the comments?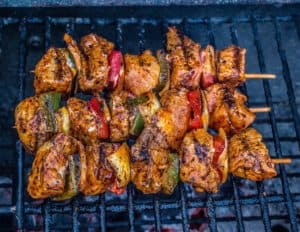 Barbecue season is upon us, so it's time to prepare! We often find that at the beginning of the summer it's a bit of a scramble to get everything you need together for a barbecue.
Let us help you out with our quick checklist.
Meat!
This is the one thing you're not likely to forget. Try to get the best quality meat that you can. If you haven't tried making homemade burgers before, give it a go. Otherwise, you can't go wrong with burgers and hot dogs from the butcher. For something really special, grab some steaks. If you want to inject plenty of flavor, then chicken wings and thighs take on marinades really well.
Veggies
It's great to get some vegetables on your plate and this will mean you have something to serve vegetarian guests. Eggplant, zucchini and squash all cook well on the barbecue. Large mushrooms and tomatoes on the vine can work well too. You can always parcel up veggies in foil and then place them on the barbecue if they might slip through.
Bread
Hot dog and burger buns are essential for carrying all of that delicious meat. You might want to bake a quick loaf to serve with cheeses and salads, but no-one will turn down a store-bought sesame bun!
Salads
A simple green salad will go a long way as it can be eaten on the side or even in your burger. A caprese is a great salad for serving at barbecues as the flavors of tomato and mozzarella go so well together and will develop throughout the day. Whip up a potato salad and you've got a perfect selection to serve to your guests.
Don't forget to add salad dressings to the table. We recommend letting your guests dress their own salad so that they can pick their favorite dressings and the leaves will stay crisp.
The extras!
A barbecue is really made special because of all the extra touches.
Cheese is essential. The classics are a slice of Cheddar or American Cheese, but Blue Cheese and Swiss are also delicious melted onto burgers. You could also put cheese onto the barbecue. Halloumi is a particularly good option as it won't melt and has a lovely, salty taste. Definitely stock up or even have a go at making your own.
Make sure you're stocked up on sauces such as ketchup, mayonnaise, mustard and, of course, barbecue.
Drinks
Beer is the classic, but there are plenty of refreshing summer drinks. Mix up a jug of something cool for designated drivers and pop a bottle of champagne in the fridge if it's a special occasion.
Has this inspired you to get the grill going? Let us know in the comments!