We love creating spooky dishes for Halloween, so we've put together a list of some of our favorites for you to try at your parties!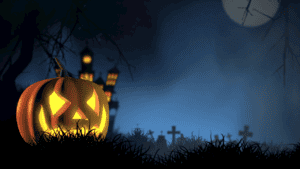 Ghostly Mini Pizzas
Top mini pizza bases or even bagels with tomato sauce. Cut ghosts out of mozzarella and put them in the middle of the base. Bake until the cheese has slightly melted. Add small pieces of black olive for eyes. Make lots of these as they're sure to be eaten up quickly!
Witch's Hats
Cut puff pastry or pre-made crescent rolls into the shape of witch's hats. Decorate with a strip of  Colby cheese as a ribbon. You could even use sweet or savory filling to make them into pies. Try pumpkin, cream cheese or melted chocolate for fun seasonal flavors.
Hot Dog Mummies
Cook your hot dogs as per the instructions, then wrap them in strips of crescent rolls. Add dots of mustard for eyes. Bake in a hot oven for around 10 minutes, until the pastry is golden and flaky. Serve with more mustard and ketchup on the side for dipping.
Snake Infested Jelly
Make your favorite jelly according to its instructions. When it is around a quarter of the way to being set, push gummy snakes into the jelly. This way they will be suspended throughout the jelly ready for your party! You can try this with other candy too – let your imagination run wild!
Spider Cookies
This recipe is lots of fun to make. Get the whole family involved to create a fantastic treat. Use your favorite cookie recipe or even pre-bought dough to make a big batch of cookies. Melt white chocolate and use it to pipe a web onto the cookies. The easiest way to do this is to pipe on concentric circles and then use a cocktail stick to pull the circles into a web shape. Leave this to set. Then melt milk chocolate and pipe on your creepy spiders. You could even add icing eyes or create your own using candy.
Pumpkin soup with Ghoulish Shapes
Cut a 2lb pumpkin into small chunks. In a large pan, gently cook a diced onion in olive oil, then add in your pumpkin and cook for around 10 minutes. Pour in 25 fl oz of vegetable or chicken stock. Bring to a boil and then simmer until the pumpkin is thoroughly cooked through and soft. Blend the soup and add 5fl oz cream to create a perfectly smooth texture.
Keep the soup warm and make some toast to have alongside it. Using cookie cutters or a small knife, cut the toast into Halloween shapes like ghosts, pumpkins or bats. See what shapes you can come up with!
What do you like to make for your Halloween feasts? Let us know your favorite recipes in the comments!