Now that we are really in fall, you might be looking for some fall foods to enjoy. That's why we wanted to share our fantastic Fall Harvest Collection with you. It has everything you need for a cozy evening in with loved ones or a picnic under the trees as they change color.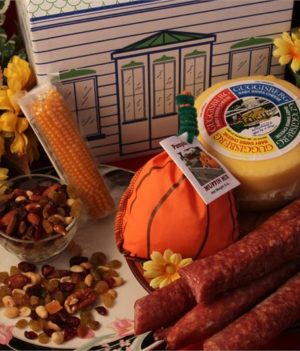 Inside you will find:
2 Lb. Baby Swiss Cheese
Our Baby Swiss is made locally in Charm, Ohio by the original producer: Guggisberg Cheese. This is a young, semi-soft cheese with lots of small holes that you will recognize from Swiss cheese. Because water is substituted for the milk's whey in Baby Swiss production, the bacterial action is slowed down creating smaller holes and a milder flavor. It is also made from whole milk, giving it an extra creamy, mild taste.
1 Lb. Streb Meats Smoked Sausage
Streb Meats is a third generation family-owned company that has been famous in our area for over 70 years. All of their meats are locally raised and hickory smoked in a real smokehouse, creating a quality product that you just can't beat.
1 Lb. of our Cranberry Delight mix
This is one of our favorite mixes because it includes a great selection of both nuts and fruit which give it a true fall flavor. It contains dried cranberries, golden raisins, peanuts, almonds, pecans, dried cherries, pineapple dices, and papaya dices. A great healthy snack for your next hike or to keep you fuelled at your desk.
Pumpkin Muffin Mix
Our muffin mixes are ideal for those moments when you want to whip up something to share with guests without any fuss. They include all of the dry ingredients to make delicious muffins. What flavor could be better for fall food than pumpkin? If you have extra time, you could even make a cream cheese frosting to go with them.
Pumpkin Butter
A delicious way to add fall food flavors to lots of different dishes. This will be great with the pumpkin muffins that you make with the muffin mix. It's also brilliant on toast in the mornings or even stirred into coffee with milk or cream for a pumpkin latte.
Popcorn on the Cob
Have some fun making popcorn with this quick way to a delicious snack. You can pop the corn right on the cob and then settle down to a cozy movie night with the family. Try adding your own flavorings such as salt, sugar, butter or even a sprinkle of cinnamon to keep the fall theme going.
We hope you've enjoyed our tour of the Fall Harvest Collection. This is available for a limited time only, so shop today to get yours! What's your favorite fall food? Let us know in the comments!