Books About Cheese That You Need
If you love cheese, then we hope you'll love our list of books about cheese.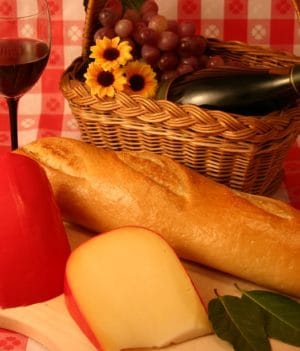 The Book of Cheese: The Essential Guide to Discovering Cheeses You'll Love by Liz Thorpe
This book is not organized by country, milk type, or other classifications. The Book of Cheese maps the world of cheese using nine familiar favorites so that you can explore based on the cheeses that you already know you love.The book is complete with flavor and aroma wheels, charts to show different intensities and photography that is sure to make you hungry.
World Cheese Book by Juliet Harbutt
The World Cheese Book includes tasting notes and serving tips for over 750 cheeses. It includes in-depth flavor profiles as well as lots of cheese facts for dairy lovers around the world. Check out local traditions from around the world as well as step-by-step techniques that will show you how to make cheese at home.
Reinventing the Wheel: Milk, Microbes, and the Fight for Real Cheese by Bronwen Percival
Reinventing the Wheel explores the many ways in which the cheesemaking process has changed over the last one hundred years. Through experiments as well as extensive research, they explore the techniques being used by cheesemakers around the world to return to small batch cheese production. There is still so much to learn about the role of microbes in cheese and this book begins to dig into this.
Tasting Wine and Cheese: An Insider's Guide to Mastering the Principles of Pairing by Adam Centamore
If you love cheese, then you might love pairing it with wines. This book covers the curriculum developed through 350 classes and seminars at Formaggio Kitchen and Boston Wine School by professional wine and cheese educator Adam Centamore. You'll be guided through flavor pairing and learn about your own palate.
The Beginner's Guide to Cheese Making: Easy Recipes and Lessons to Make Your Own Handcrafted Cheeses by Elena R. Santogade
The next step for any cheese connoisseur is to have a go at making their own cheese. You'll get an introduction to cheese making techniques and equipment, as well as having all of your difficult questions answered. Step-by-step make sheets help you to track your progress as you make each cheese. There are more than 45 recipes for you to choose from including both soft and hard cheeses.
 One-Hour Cheese: Ricotta, Mozzarella, Chèvre, Paneer–Even Burrata. Fresh and Simple Cheeses You Can Make in an Hour or Less! by Claudia Lucero
If you want a less in-depth introduction to cheesemaking that will see delicious cheese appear on your table in just an hour, then this is one of the books about cheese for you. With easy to follow instructions and photographs, you'll learn to make sixteen fresh cheeses that are sure to please a crowd. The book also includes recipes to show off your creations.
We hope you've enjoyed our list of books about cheese. Which would you like to see on your bookshelf? Do you have any recommendations? Let us know in the comments!