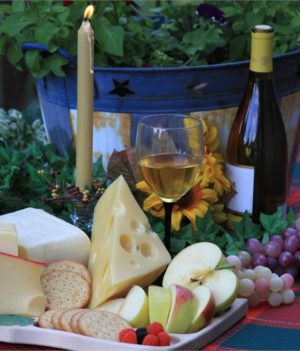 We previously told you all about some of the best cheeses in our Red Wine Collection.
Today, we are going to take you through our White Wine Collection. We'll show you all of the cheese and offer wine pairing ideas. This collection comes with ample cheeses to serve up to 20 guests. If you're having a huge celebration this year, why not get both?
Amish Butter Cheese
This is one of our premium local, Ohio cheeses. Amish Butter Cheese is rich and creamy; it certainly lives up to the 'butter' in its name! This is a pale cow's milk cheese with a similar flavor to Havarti. It is ideal for melting, as a snack cheese or as part of a cheeseboard.
An ideal pairing for such a smooth cheese is a glass of Chardonnay. The rich, golden wine with hints of vanilla will sit perfectly with your Amish Butter Cheese.
Wisconsin Brick Cheese
An American original, Wisconsin Brick Cheese is medium-soft, slightly sticky, and crumbles easily. It starts with a sweet, mild flavor, and matures into a strong, ripe cheese. The cheese curds are pressed with clay-fired bricks into a brick-shaped cheese, hence its name.
Try your Wisconsin Brick Cheese with a glass of Sauvignon Blanc. This is a full, fruity wine with flavors of citrus, tropical fruits, and floral notes. This will add flavor when eating a young brick cheese, whilst standing up to the strength of an aged cheese. ­­
Gouda
Gouda is a yellow cow's milk cheese with a wax coating. It undergoes a process known as "washing the curd". The milk is heated until the curd separates from the whey, some of the whey is drained, and water is added. This creates a sweeter cheese because of the removal of some of the lactic acid. Gouda originates in the Netherlands, and ours is imported from there, so you know you are getting an authentic cheese.
Gouda's caramel sweetness, along with a slightly crunchy salt, make it a very versatile cheese for drinks pairings. For white wine pairings, you might find, like some of our other cheeses, that Chardonnay works well. However, if you want to try a variety of wines, then a Pinot Grigio pairs well with Gouda. This light, fruity wine won't overpower the cheese but will enhance its honey tones.
Amish Country Swiss Cheese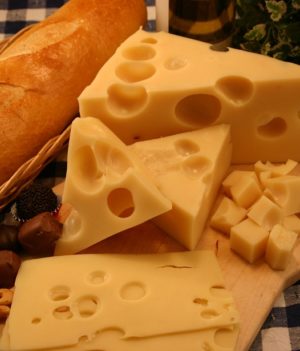 Our Amish Swiss Cheese is made in Pearl Valley, Ohio and we truly believe that it's the best. It has a nutty, bittersweet taste and the recognizable holes that we expect from Swiss cheese. These are created by natural bacteria used in the process of making the cheese. They consume the lactic acid in the cheese and release carbon dioxide gas which forms bubbles and creates the perfectly round holes.
For wine pairings, try going back to the cheese's European roots with a Gewürztraminer. This is an aromatic wine that will complement the nuttiness of the cheese. Sometimes it has a little 'spritz' to it which gives it a lightness and makes it perfect for a celebration.
If you want to add some extra cheeses to your white wine pairing board, then Gruyere, Parmesan, Mozzarella, and Provolone are all great options.
Pick up our White Wine Collection today!
Mother's Day is fast approaching and it is the one day of the year which is dedicated to pampering moms everywhere… Also, a great excuse to drink lots of wine!

Choosing a bottle of wine doesn't always mean picking the most expensive bottle. If you're picking some wine for your mom, the best thing to do is find out what she loves best. It can range from aromatic white and crisp sparkling wines to refreshing rosés and silky reds. Either way, this list is sure to please any mom who deserves the best:
Sparkling Wines:
Berlucchi Franciacorta '61 Rosé
This wine is a signature sparkling wine of Italy's Lombardy region, Franciacorta is made in the same way that champagne is. The reason it has '61 in the name is because Guido Berlucchi began producing the style in 1961, and has remained the leader of the region ever since. It is a beautiful salmon pink wine with flavors or lemon, strawberry, and berry. It is a refined, medium-bodied sparkling wine and pairs very well with shellfish and aged cheeses.
Rack & Riddle North Coast Blanc de Blancs
Rack & Riddle is a special wine as it is part of the handful of wineries in California that still use the méthode champenoise, which is a traditional French process which is used to produce sparkling wine. The attention to detail that this winery employs is definitely noticeable within the taste of North Coast Blanc de Blancs. This sparkling wine is full of bright and fruity aromas of melon and green apple, along with strong complimenting flavors of lemon curd and lime to reserve a smooth and crisp finish.
White Wines: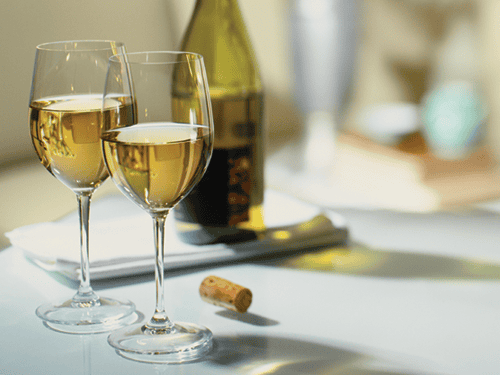 Smith-Madrone 2013 Riesling
Smith-Madrone 2013 Riesling originates from terroir in which the winemaker Stuart Smith purchased back in 1971. The Smith-Madrone vineyards have been producing grapes perfect for crafting German and French style wines. This particular wine has intense aromas of stone fruit, honeysuckle, and white flower. It also has notes of citrus and stone fruit in its flavor which is rounded out by a creamy finish.
Cherry Tart 2013 Chardonnay
This delicious type of Chardonnay is a blend of grapes from the Cherry Pie winery. The winery has three vineyards in Napa, Sonoma and Monterey counties. It is 100 percent Chardonnay which has a strong aroma of white fruit and flower. The taste is rich with notes of marzipan, pineapple, and caramelized pear, there is also a hint of oak throughout.
Whitehaven 2014 Marlborough Sauvignon Blanc
This white wine is quintessentially Marlborough in its aromas and flavors. It is a medium-bodied wine with notes of gooseberry, peach, and herbs in its aroma and intense tropical fruit and citrus flavors on the palate. Because of its hand-harvested grapes which are grown in the warm New Zealand Climate, it is vibrant, acidic and crisp.
Red Wines: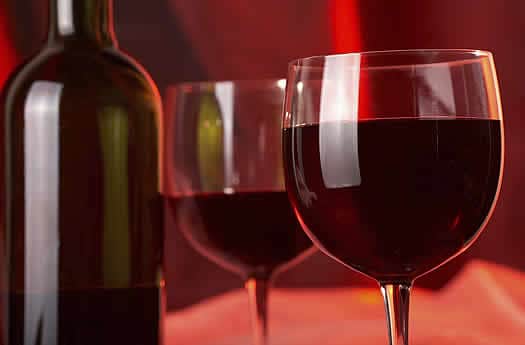 Columbia Winery 2013 Columbia Valley Merlot
This wine is deep red colored and produced from volcanic soil of central Washington. It boasts fragrant aromas of spice and plum along with dark berry and vanilla. A great pairing with wine would be poultry because of its vivid acidity.
Regusci Winery 2012 Matrona Red Wine
It takes its name from the Italian word for "matriarch" and is crafted in honor of Livia Regusci who was the founding mother of the historic family ranch. This red is more of a vintage blend of Cabernet Sauvignon and Merlot in which it offers rich fragrances of cherry and berries. The berry flavors are also a big part of the taste, along with delicious notes of dark chocolate and coffee beans.
Elizabeth Chambers Cellar 2013 Winemaker's Cuvée Pinot Noir
Elizabeth Chambers Cellar 2013 Winemaker's Cuvée Pinot Noir is a delicious blend of grapes from Falcon Glen, Lazy River, and Russell Grooters vineyards. Not only that, but this Pinot Noir is aged for 15 months in French Oak barrels and is most desirable after being in the bottle for more than 2 years. Its notes of cherry aroma and flavors of strawberry and rhubarb are pleasure in a glass.
Rosé Wine: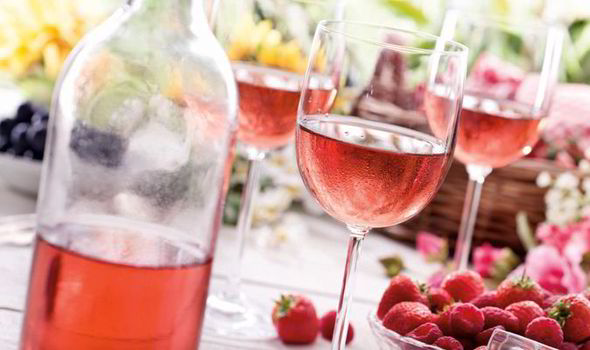 Solace 2014 Rosé
This is another wine in which is produced using the French méthode provençale, which the process entails red grapes being grown and harvested solely for the production of the rosé. On the nose, the aromas are strong with notes of white flower and some peach. With juicy flavors of raspberry, strawberry ad melon, this wine is a delicious refresher.
Dessert Wine: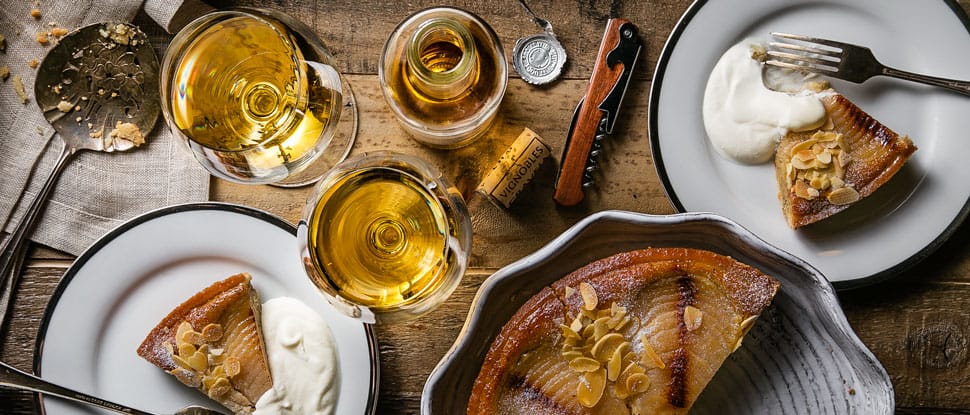 Jorge Ordoñez & Co. No. 2 Victoria
Winning multiple awards, this wine had to be included. It is made from 100 percent Muscat Alexandria. Notes of mango, peach, apple and lemon are throughout in flavor and aroma. The crisp acidity balances out the sweetness, making it a delicious dessert wine.
We all know the rule that when it comes to cooking with wine, there's one for the dish, and two for the chef! (Am I right?!) Us wine lovers have also heard the true advice to not cook with a wine you wouldn't drink, but then again… it can seem like such a waste cooking with an expensive wine, so let's see if there is a happy medium.
Image Source: winecellarinternationalblog.com
Now, we all know about those "cooking wines" readily available at grocery stores, but you definitely wouldn't want to drink those from the bottle. An excellent alternative can be found at any wine store- a value driven alternative, at that. It doesn't matter if the recipe calls for red or white wine, the key things to look for are light- to medium- bodied, fruity, acid-driven wines; and to avoid heavy wines with lots of tannin or oak because they will clash too much with the flavors of most dishes. The best way to tell if a wine is any good other than those tips will be the price. The sweet spot lies between $10 to $15 dollar, ensuring both value and quality.
What are we waiting for? Let's throw on our aprons and get cooking with these favorites!
Domaine La Montagnette 'Sinargues' Côtes Du Rhône, Rhône Valley, France
Image Source: shoptipsy.com/shop/domaine-la-montagnette-cotes-du-rhone-villages-signargues
For those who enjoy full-bodied wines will enjoy this wine especially. Similar to wines such as Cabernet Sauvignon, it contains familiar grapes for a delicious cooking or drinking wine (or both!) You must take caution and avoid picking up tannic wines as they can be quite bitter when added to a dish. This wine remains low in tannin, but has a darker structure, with blackberry, black cherry, and wet-earth flavor set.
NV Castillo Peredlada 'Blanc Pescador', Catalunya, Spain
Image Source: wine-searcher.com/find/pescador+blanc+emporda+catalonia+spain
Not only is this a popular drinking wine throughout Spain, it goes perfectly with practically any dish. With blends of Macabeo, Xarello, and Parellada, this wine is close to sparkling, making it similar to Cava. Don't worry though, this won't affect your dish because the bubbles flatten as the wine gets cooked, but drinking wise, it will definitely perk up the chef! This perfect sous-chef wine is clean and fresh, offering lemony notes with a touch of rocky minerality.
Esporao 'Monte Velho' Branco, Alentejo, Portugal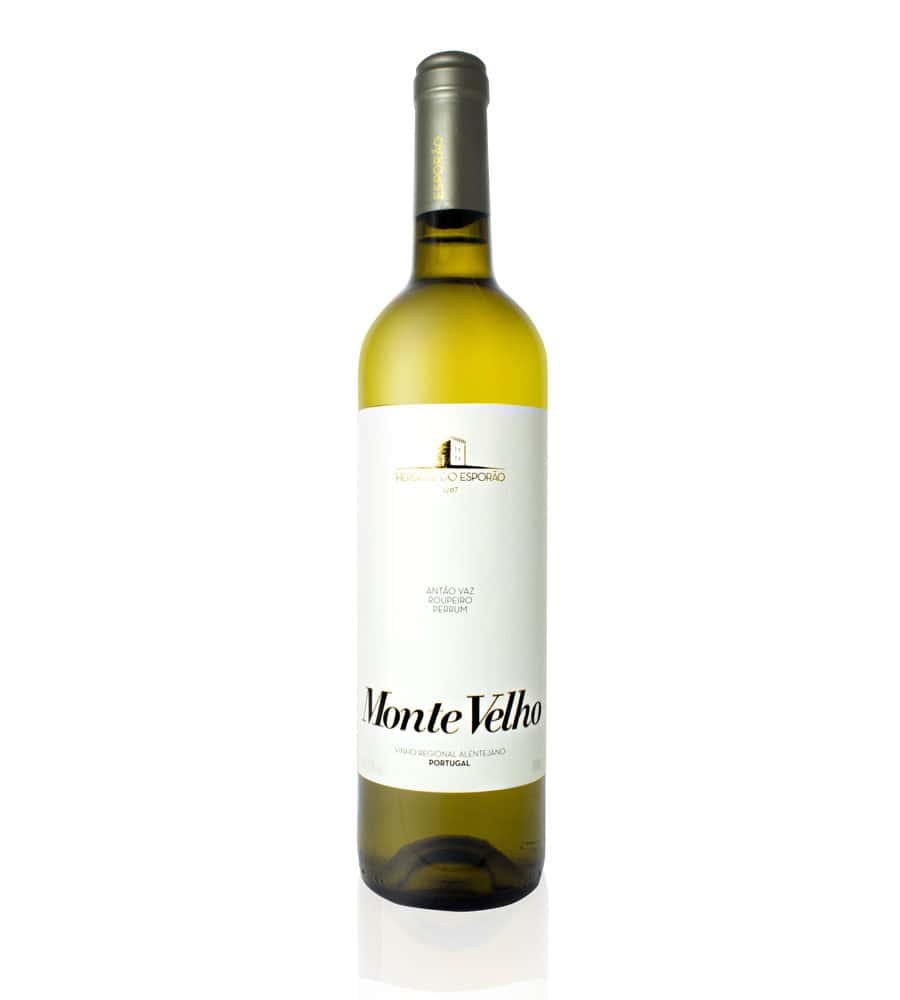 Image Source: vinha.co.uk/wine/white-wine-monte-velho-esporao-2015-75cl-alentejo-4480/
Countries that are not known well for winemaking provide excellent sources of cooking wine because they typically offer better quality for a lesser price. This wine offers a delicious fruity taste, without a bit of body without the oak. It's a perfect blend of Roupeiro, Antao Vaz and Perrum is a Portuguese staple. It is a richer wine but still retains its freshness.
Leyda 'Classic' Pinot Noir, Leyda Valley, Chile
Image Source: thewinebowgroup.com/our-brands/leyda/leyda-pinot-noir/
Pinot Noir is the perfect drinking wine, but it can also be an amazing cooking wine. It comes in lots of different forms and prices. There's definitely no reason to waste $50 glasses of wine when a lesser-known Pinot Noir producer exists in Chile, offering a decent bottle for a good price. The Chilean producer specializes in a balance of fruity flavors with an affordable price tag.
Le Cantine Di Indie 'Polpo Rosso', Sicily, Italy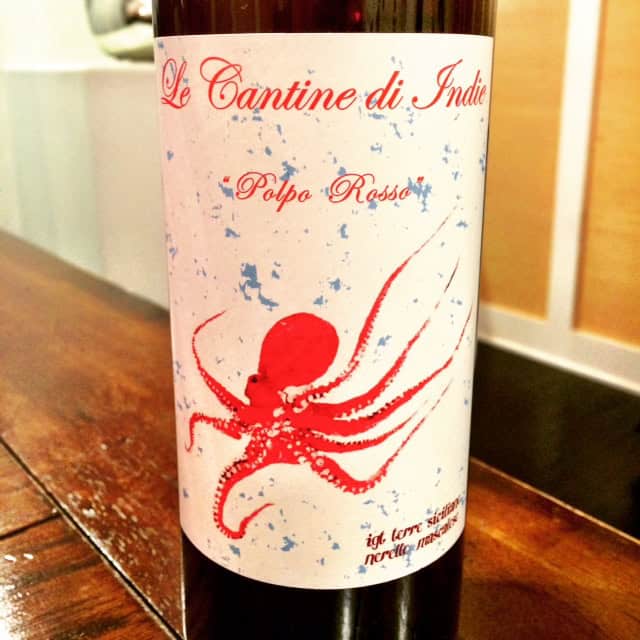 Image Source: wineandgoodfood.com/2015/03/04/le-cantine-di-indie-polpo-rosso-2013/
Most dishes will want a red or a white wine, but sometimes a rose is preferred. This light red wine is a 'go to' when it comes to those times. It is organically farmed in Sicily, made from Nerello Mascalese. Its fresh flavors, raspberry, and red cherry is the fruity delight that is craved and will pop even more in cooler temperatures, so feel free to chill it before use!
Weingut Josef Leitz 'Leitz Out', Riesling, Rheingau, Germany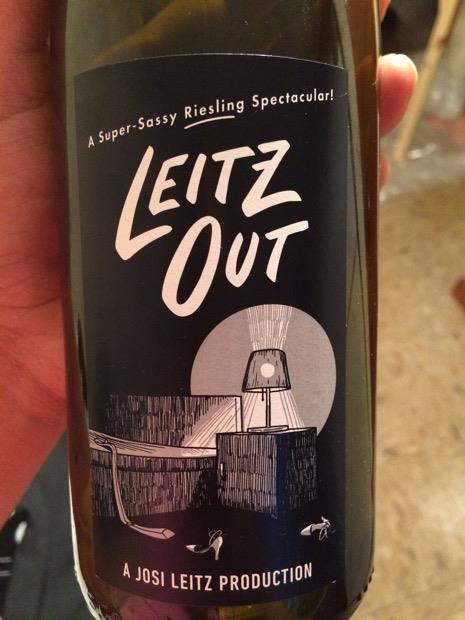 Image Source: cellartracker.com/wine.asp?iWine=1942034
Because of its high acidity, Riesling makes a perfect cooking wine. Be careful not to pick up a sweet version of this wine, though, or there will be an extra dose of sugar added to the dish. With peach and lemony flavors, this wine cooks down (easier than it goes down!) and makes an excellent choice when it comes to cooking.