Locally Made Syrups and How to Use Them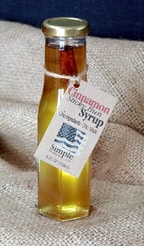 You know that here at Shisler's Cheese House, we only like to stock the very best. That's why we carry the best syrups that we can find, produced in small batches on a family farm in Holmes County, Ohio. Read on to find out about all our flavors and how you can use them in your kitchen.
The sap is hand gathered and boiled on a small backyard evaporator, then filtered and combined with locally gathered wild black walnuts and a small amount of cane juice crystals. There is nothing like this unique twist on an old favorite. Pour it over a stack of 'jacks or a bowl of ice cream.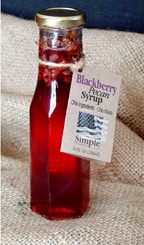 This syrup was inspired by one of our favorite recipes: grilled pork loin glazed with blackberry sauce and pecans. It's made by simply combining local blackberries with water, sugar, and pecans.
Combine this syrup with butter and scallions, then brush onto a grilled pork loin in the last fifteen minutes of cooking for a real treat. You could also drizzle it right from the bottle over homemade ice cream.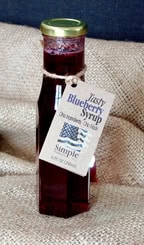 Made from the best locally grown blueberries.  If you love blueberries then, of course, you will love our blueberry syrup! It's an excellent accompaniment to your favorite breakfast food or ice cream, but for something more unusual try it on grilled swordfish with a touch of butter.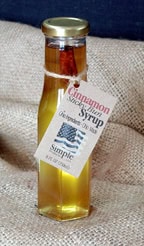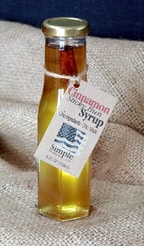 Inspired by our producer's grandmother, who made the best cinnamon rolls the world has ever known. It tastes like freshly baked rolls loaded with cinnamon and drizzled with vanilla icing. This syrup is our attempt to bottle that wonderful winter treat in an easy to enjoy form.
Try this syrup on your morning oatmeal, in your coffee and tea or on top of a fresh baked roll. It will immediately transport you to a seat in the local pastry shop with a big smile on your face!
In the heart of Ohio's Amish Country there is a beautiful organic lavender patch loaded with flowers and fragrance. Our supplier infuses these fresh flowers and adds pure granulated sugar and a dash of blueberry juice for color. Did you know that lavender was historically used to spice the foods of royalty? It's perfect for flavoring sorbets, shortbreads, champagne cocktails, hot teas or sparkling water.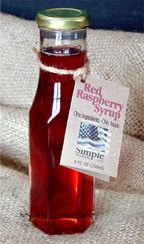 Twice a year, in Northeastern Ohio, the red raspberry canes explode with the fireworks of succulent fruit. We combine these local bursts with organic cane juice crystals to make a syrup that is worth fighting for! This is brilliant added to meat loaf, meatballs, marinara sauce or your favorite salsa for a delicious twist.
Our Shagbark Hickory Syrup is crafted in small batches by our supplier in Ohio's Amish Country. The exfoliating bark of the Shagbark Hickory tree is sustainably harvested from trees that grace our woodland, washed carefully and steeped in pure well water. The extract is then filtered and sweetened with organic cane juice crystals and aged to perfection. The process of making hickory syrup dates back many years. Its smoky, nutty flavor is less sweet and more complex than maple syrups. Our Hickory Syrup can be used anywhere you would use maple syrup.  It also makes a great glaze for meat and seafood, added to stir-fried shrimp or chicken and as an ingredient in homemade BBQ sauce.
We hope you enjoyed the tour of our syrups! Which one are you going to try first? Let us know in the comments!