Flavored Cheeses: Add Flair to Your Cheeseboard
We stock a variety of flavored cheeses here at Shisler's Cheese House and we love how they can add extra excitement to any cheeseboard. They are also great for adding flavor to a variety of different dishes.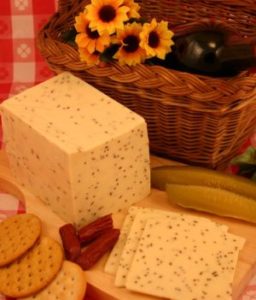 We've put together a list of some of our favorites for you to enjoy. We've also added some great culinary ideas to use them up.
A creamy cheddar infused with smoky bacon. This is great for breakfast dishes such as muffins or a frittata. The smoky flavor will also work well with slightly sweeter dishes. Add it to a cheeseboard and see if your guests can identify the flavor.
A semi-soft combination of Limburger  and Brick Cheese. Not to be mistaken for a Beer Cheese dip, it has a very strong smell and taste. Germans like to put it on rye bread along with some sliced onion and have it with beer.
A lovely mild white cheddar with the addition of flavorsome garlic. This is perfect for pasta dishes or even an extra special grilled cheese. Combine it with mushrooms or ham for brilliant flavor combinations.
Made with real green onions so that you get plenty of flavor in every mouthful. Try it with a picnic of salads and meats for a simple meal. This is one of our favorite flavored cheeses for adding extra zing.
Havarti Cheese is an interior-ripened cheese that is rindless and smooth. It has very small and irregular eyes. It can be somewhat sharp and buttery in taste with sweet notes. This variation of Havarti Cheese is infused with Caraway Fruits, commonly referred to as Caraway seeds, which are the principal element in the flavor of rye bread.  It has a pungent anise-like flavor and aroma. Plain Havarti Cheese and Havarti Cheese with Dill are also available.
A white cheddar infused with the spicy tang of horseradish. Well balanced so that you get both creamy and spicy flavors coming through. This would work brilliantly with beef burgers or other beef dishes with cheese.
One of the nation's favorite flavors, already infused into cheese for us to enjoy. It's perfect for pizza! You could also enjoy it on crackers or with vegetables. This is another good choice for a grilled cheese with extra taste.
A delicious cheese with savory onion tones. Great with pickles or chutney. This could also be an excellent addition to a fondue if you want to make it extra flavorful. Try it melted onto toast with soup. This is perfect when the weather starts to get colder.
We stock a wide range of spicy cheeses, but the hot pepper cheese is a great place to start. It has just the right amount of kick to add fire to your favorite dishes alongside a lovely peppery flavor. It works really well with Mexican dishes such as tacos or quesadillas.
Which of these flavored cheeses would you like to try? Let us know in the comments!