We love to help you get to know our cheeses here at Shisler's Cheese House. Today, we are taking a look at Gouda.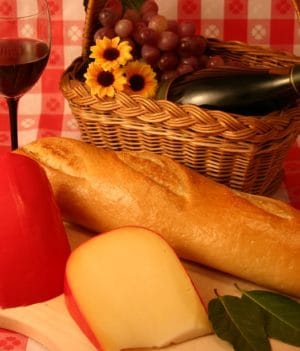 What is Gouda cheese?
Gouda is a yellow cow's milk cheese. It usually has a red or yellow wax coating. Ours is imported from the Netherlands, where it originated.
How is Gouda made?
It is made by culturing and heating the milk until the curd separates from the whey. When some of it is drained, water is added, which is called "washing the curd". This process gives a sweeter flavor to the cheese as the washing removes some of the lactic acid. It is aged in cellars for at least 4 weeks. Extra mature versions will have been aged for 7 to 8 months, although it may be left for over a year to become even more flavorful and crunchy.
What does it taste like?
As the cheese ages, it develops a caramel-like sweetness. It sometimes has a slight crunch from the tyrosine crystals that resemble salt. The longer it is aged, the more aromatic and flavored it becomes.
We also sell a Smoked Gouda which is infused with a lovely smoky flavor.
What should I eat it with?
For the simplest snack, serve cubes of Gouda with a dipping mustard as they would do in the Netherlands.
Gouda pairs very well with fruit such as apples and pears. It is also great with other sweet flavors including honey and syrup.
It melts deliciously, so try a slice in your favorite grilled cheese sandwich for extra flavor and that incredible melted cheese effect. Try adding some wholegrain mustard to a grilled cheese. The nuttiness of the cheese pairs really well with the spice of the mustard.
This is also a fantastic cheese to add to a cheese sauce as it will add an extra punch of flavor. Mix it into pasta dishes or grate it over roasted vegetables for a simple cheesy side dish.
If you like to make quick snacks for parties, then you can use this to make quick cheese straws with flaky pastry or layer it vegetables to stuff jalapeno peppers for a spicy treat.
What should I drink it with?
For a special occasion, this cheese is delicious with a glass of champagne or sparkling wine. Other white wines that work well are those that have fruit flavors such as a Sauvignon Blanc or Riesling. If you prefer red wine, we would recommend something light but fruity with a smoky undertone, such as a Beaujolais or a Pinot Noir. A Cabernet Sauvignon would go well with an aged Gouda, although it may overpower a younger cheese. A smoked Gouda is delicious with a glass of spicy Pinot Noir or a Chardonnay.
This cheese also goes very well with beer from light lagers and pale ales to a hearty porter or stout. You could even try it with spirits like Brandy or Calvados.
How do you like to eat your Gouda? Let us know in the comments!