Mustard: Our Favorites
Today we are exploring the world of mustard. Read on to find out more about how it is made and the great range that we have on offer for you to enjoy at Shisler's Cheese House.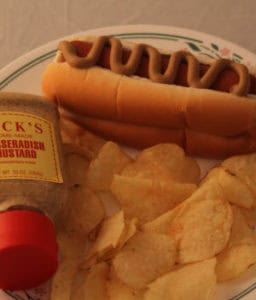 How is it made?
It is made from the seeds of the mustard plant. These are used whole, ground, cracked or slightly bruised. They are then mixed with a variety of liquids including vinegar, salt, and other flavorings or spices to create the delicious condiment that we know and love. The combination of ingredients is what helps them to range from sweet to spicy.
Are there any health benefits?
There is some evidence to show that the seeds could inhibit cancer cells, so you might well be improving your health when you spread some on a sandwich.
A whole range of different mustards
We know that each different occasion calls for a different condiment, which is why we stock a variety of options for you to try.
Bertman Ballpark Mustard is a classic spicy brown sauce. Of course, we recommend enjoying it with a hot dog.
Herlocher's Dipping Mustard is sweet and tangy: perfect for dipping pretzels into it.
Try our own Shisler's Private Label Sweet Mustard with ham, sausages, or in a sandwich.
For those who love spice, we created the Shisler's Private Label Hot Jalapeno Mustard. This is a great accompaniment to creamy cheeses and pickles.
If you like to use lots of garlic in your cooking, then try the Shisler's Private Label Roasted Garlic Mustard. This is great for stirring into sauces for an extra kick of flavor.
Dick's Homemade Horseradish Mustard is made right here in Ohio. Eat it with hot dogs or hamburgers for that authentic flavor.
If you can't get enough, then try our honey mustard pretzels. They make a great snack for movie night.
You'll also find some along with some delicious treats to eat it with all wrapped up in our Football Season Special.
Tips for using mustard
Add a spoonful to your cheese sauce. It will give that extra zing to your mac and cheese.
Create a quick salad dressing with mustard, oil, honey, and vinegar.
Make a glaze for ham or chicken by mixing it with brown sugar. Add it in the last hour of cooking for caramelization.
Mix it with mayo. It'll add an extra kick and you'll love dipping fries in.
Spice up potatoes. Add a little to scalloped potatoes or mash and you're sure to have friends asking for the recipe.
Add it to breakfast. A small amount can make breakfast potatoes extra exciting and they'll be perfect to eat with sausages. You can even mix it into beans for added heat.
Put it in your side veg. Sometimes sides don't seem that exciting. Add a spoonful to cabbage or broccoli to bring some fun to the table.
Stir it into your soup as it finishes cooking. You'll definitely get flavor with your veggies then!
How do you like to eat mustard? Let us know in the comments!