Have You Ever Tried Brie Pie?
This rich and luxurious pie is not your average pie. In fact, pies in the U.S are usually eaten for dessert, but Brie pie is more of an appetizer or entree.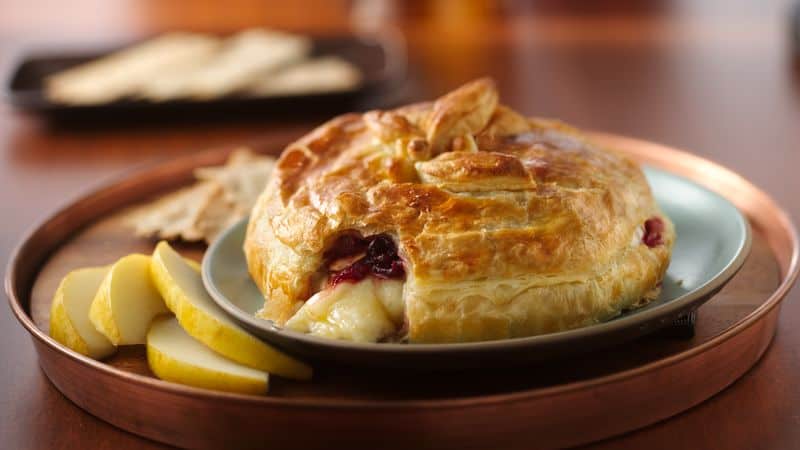 Luckily, like a lot of the delicious appetizers on offer, this one is fairly simple to create and has an amazing payoff. It may look quite difficult, but it only entails wrapping a wheel of brie in a thawed sheet of puff pastry and cooking it until golden. Even if it was difficult to create, the combination of warm melted cheese inside of a crispy pastry is impossible to resist and worth every effort.
The type of Brie you get isn't too important, a rule of thumb would be to buy one that fits your hand and looks good to wrap in pastry.
Let's get right to it and create this cheesy masterpiece!
Recipe
What You Need
8 oz of Brie
1 sheet puff pastry, thawed
All-purpose flour
1 large egg, beaten
What To Do
Firstly, preheat oven to 400 F, making sure the oven rack is in the middle of the oven. Now line a baking sheet with parchment and set it aside.
Start by rolling out the puff pastry, using the flour to dust out on the counter and then sprinkle some more flour on top to the pastry to aid rolling further. Roll the pastry so that it measures around 11 x 11 inches to make sure it fits around the Brie.
Now it is time to wrap the brie in pastry. Place the wheel of brie in the middle of the pastry and fold the corners over the brie, creating a neat package. Press against the edges gently and neaten the sides up.
Brush the pastry over with the beaten egg, making sure you get the sides and transfer the pie to the baking sheet.
Bake the pie for around 35-40 minutes or until golden brown.
Now allow cooling for 5 to 10 minutes which will give the hot cheese time to firm up.
Transfer it to a serving platter and serve it warm.