Which Cheese Is Best? Grocery Store, Locally Purchased, Or Purchased Online?
Even though shopping at a grocery store is extremely convenient, who can truly say they enjoy shopping at grocery stores? The one main reason we all shop at them is because they house pretty much everything you need under one roof. Depending on the quality of the grocery store, there are usually 4 counters worth going to- cheese, meat, fish, and cooked meats.
Grocery Store Cheese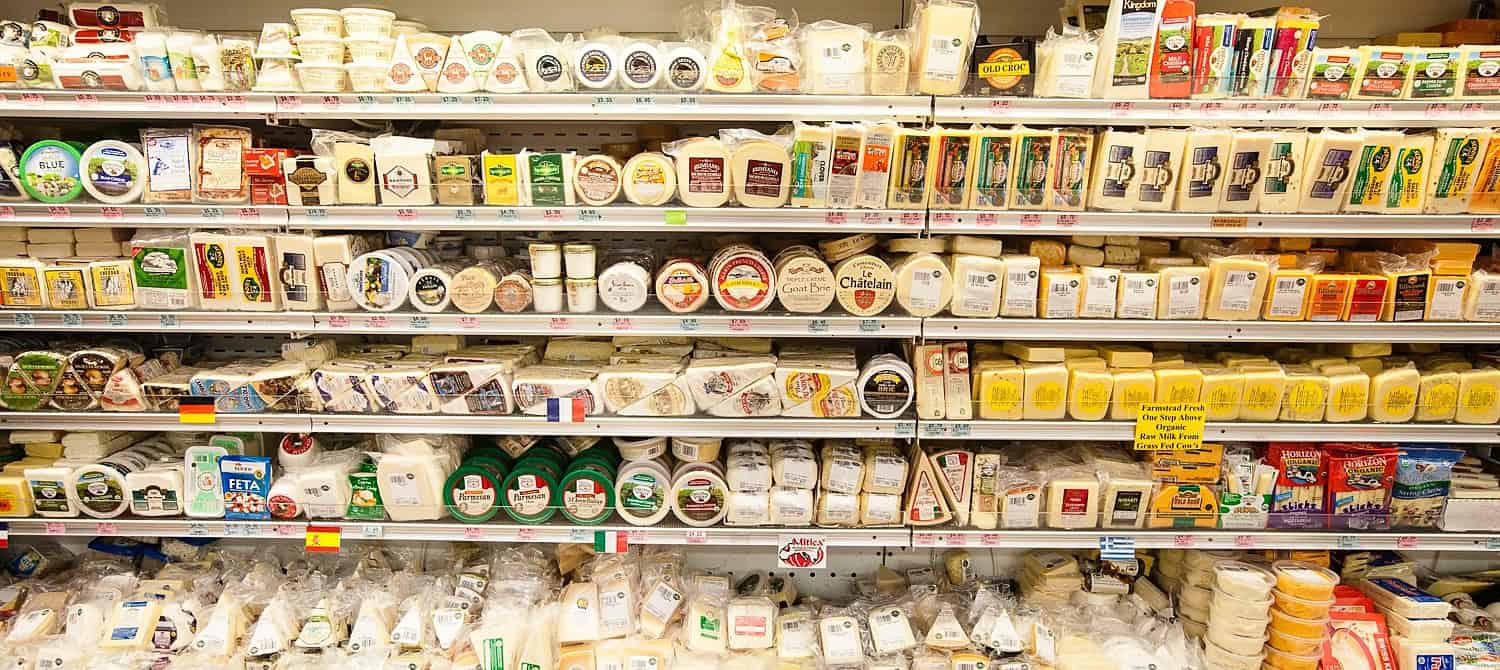 If you are lucky, there may be some cheese which isn't drowning in vacuum packed, plastic wrap and actually resemble real cheese, not scrunched up chamois leathers that have been left in a water bucket overnight. You may even be able to smell and sample the cheese at the store to make sure you want it!
It all depends on what you expect to pay and what you want from your cheese. Although there are cheap and unpleasant options available, there are some options on the more expensive side that will satisfy your taste buds, you just have to shop around and try to sample some.
It is important to read the labels, it may have a sticker that indicates where it was made, but organic cheeses will have a separate logo to certify that they are organic. Vegetarian and vegan cheeses will also show the correct label. If they do not contain stamps of certification, you cannot trust how the cheese was produced. There will also be information on where the product came from, ingredients used, nutritional information, allergy warnings, use by date and storage instructions all there for our careful consideration.
The choice is entirely down to you when you're buying cheese off the shelf of a grocery store, but if you are lucky enough to find a knowledgeable cheese counter assistant, don't be afraid to ask questions.
Locally Purchased Cheese
If you are lucky to have a specialist cheese shop nearby and have never been in, make sure you do and compare the experience and quality with your usual cheese source. Just walking into the store is a whole different experience, it's as though your senses are reawakened. Farmers markets especially are great places to try before you buy and specialist cheese stores might be willing to let you try the cheese before you buy it. The people who work in these stores are also bursting with the knowledge to help your every cheese need, with a lot more option and variety. They can introduce you to so many cheeses you didn't even know existed.
If your cheese store is far away, make it an exclusive day out and slow down and enjoy the experience.
Online Cheese Purchasing
Online is a good way of having the best of both worlds. If you have previously visited a cheese store and know exactly what you like, online makes it so you don't have to go anywhere and you can access the best cheese, no matter what. Shisler's Cheese House has an online store as well as physical stores to ensure our customers get the best of both worlds. Whether you are looking for a little something for yourself or a gift for a fellow cheese lover, online mail ordered cheese can make the process so much easier and better. With there being thousands of different varieties of cheese, online gives us the chance to access them all, from our very own devices.