Peanut Butter: The Perfect Addition to your Baking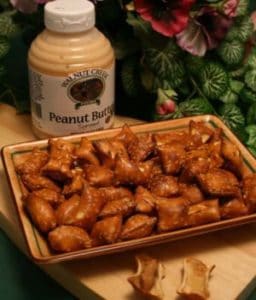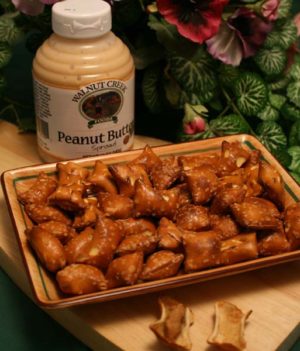 We love finding new baking ideas and we also love peanut butter, so today we are combining the two to share with you some fun ideas for baking with peanut butter.
Peanut Butter Cookies
Best served with a glass of milk, these are a true classic. Add peanut butter to your cookie batter or spread it on top. You can go for straight peanut butter or add chocolate – choose your favorite. Cookies also make great ice cream sandwiches!
Peanut Butter Cheesecake
Mix the peanut butter into the cheese, use peanut butter cookies in the base, or even create a peanut butter topping. You could even chop some Heggy's Milk Chocolate Peanut Butter Creams and stir them in. However you decide to bring peanut butter into your cheesecake, you know that it will be delicious.
Peanut Butter Brownies
Take your favorite brownie batter and swirl in some peanut butter. You could even add a crunchy topping with some crushed up Peanut Butter Pretzels. Try a blondie with white chocolate if you have a really sweet tooth.
Peanut Butter S'mores
Just when you thought s'mores couldn't get any better, we added peanut butter! You can do this in a couple of different ways. Either make a normal s'more and add a smear of peanut butter to one of your graham crackers or replace your chocolate with a peanut butter cup. You could even add some caramel if you want a real treat.
5. Peanut Butter Pancakes
Pancakes aren't just for breakfast. They make a great dessert too! This filling will work for both. Put peanut butter, chocolate chips and slices of banana in your crepes before rolling them up.
6. Peanut Butter Sundae
Create a sauce by heating 3 parts caramel, 1 part peanut butter and 1 part milk until it is smooth. Pour it into the bottom of your sundae glass. Layer it with ice cream, banana, caramel, and any other ingredients that you like. Top with a sprinkling of chopped peanuts.
7. Peanut Butter Popcorn
Combine peanut butter with syrup to drizzle over popcorn. This is a messy treat so make sure that you have cloths on hand to clean up!
8. Protein bars
If you want to create a healthier treat that will give you plenty of energy, make a peanut butter based protein bar. These can be made with peanut butter, honey, protein powder, and oatmeal, but there are lots of different recipes out there.
Have you been inspired to bake with peanut butter? Then pick up a jar of our Amish Peanut Butter Spread today. Made locally from a special blend of all natural ingredients, it's sweet and creamy, with a soft and silky texture, perfect for baking.
If you plan to serve these at a party or take them along to an event, please be careful to ensure that no-one present has a nut allergy and always label your dish stating its ingredients. We would hate for someone's baking to become a health risk.