Sometimes, the simplest of products are the ones that should be of the highest quality. This is what we believe and that's why we stock the very best Amish Butter.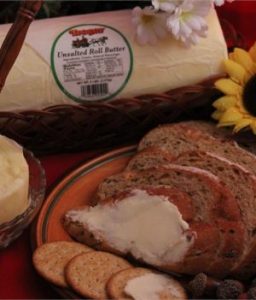 Our fresh and delicious Amish butter is produced locally and, like our Amish cheeses, this Amish butter is generally produced using milk from hormone-free cows with no preservatives are added. This makes for a much better tasting butter than anything you might find in the supermarket. You will find that it has an enhanced, natural, milky flavor that is just as delicious in dishes as it is on its own.
Butterfat is one of the byproducts of cheese making. As there are abundant amounts available from the local cheese artisans, Northern Ohio has become quite the production hub for fresh Amish butter as well. The butterfat gives an incredibly creamy texture and extra flavor compared to bland normal butters. We stock it in both salted and unsalted, so that you can use it for a variety of different recipes.
Salted Amish Butter
You really cannot beat salted Amish butter spread onto fresh bread or a delicious piece of toast. Try it with our pure clover honey for a sweet treat. You could even have a go at making your own bread to really enhance the experience. We love making a simple meal like breakfast a real event with stunning ingredients.
It's perfect for cooking vegetables to add seasoning and extra color. Pop some on your cheeseboard for those who like butter with their cheese and crackers. It's also excellent for adding to sauces to create a smooth finish and add depth to your dishes.
Unsalted Amish Butter
This is perfect for all of your baking needs. Whether you're whipping up a batch of brownies, some fun cupcakes or even a stack of pancakes, you'll find that Amish Butter is the best ingredient to use. The high butterfat is ideal for making brilliant shortcrust pastry and cookies that melt in the mouth. Why not try making our favorite crepes recipe with our butter and taste the difference today?
Amish Products
If you've enjoyed our butter then we have a whole range of products that you're sure to love. Start with our Amish Butter Cheese, made from the best butter. It is a rich, creamy cheese that works well in sandwiches and cooking. Several of our gift boxes showcase Amish flavors, including our Amish Cheese and Goodies Box and the Amish Country Sampler Box. We also offer a local Amish Peanut Butter that is great for baking with or enjoying in sandwiches. For snacking on movie nights or when you're hiking, try our Amish Hot Mix. This includes hot Cajun sesame sticks, taco sesame corn sticks, redskin peanuts, pretzel twists, and chili bits for all of you spice lovers. Many of our cheeses are also locally produced using the Amish method and farm fresh milk. We're proud to support our local community and provide our customers with the very best quality!
As we delve further into the heart of Fall, with Winter to follow, moods get dull and that spice of life seems to dissipate over the course of time through the year's last few months and the through the handful of months to start a new year. This is what we sometimes call the Fall and Winter Blues. But, it does not have to be this way. We can always enjoy the finer things Fall and Winter has to offer. For example, waking up on a Fall morning to a nice cup of coffee or tea, throwing on a hoodie and hiking the open trails painted with Fall colors, or, waking up on a winter morning with nowhere to go and wrapping that extra blanket around you for just another hour of sleep. While Fall and Winter can bring out the blues in many a number, I prefer to think the spice of life can still be found over these two seasons, if we just try to look hard enough.
Speaking of the spice of life, Shisler's can help you bring out the best of Fall and Winter with our line of products that can add that extra zest to any blues-infested mood.
Who doesn't love a good piece of cheese, complimented with a glass of fine wine. To see our line of fine, aged (or not aged) imported and domestic cheeses, please visit HERE.
Source: https://douglasgreen.files.wordpress.com/2011/10/wine-and-cheese.jpg
Chocolates are amazing anytime of the year. However, they become increasingly desirable and irresistible as the seasons change, especially as colder weather becomes the trend. Shisler's is well-known for the chocolates we carry, and we are proud to carry signature chocolates from Heggy's and Stefanelli's. Our selection of Heggy's Chocolates is a vast one featuring everything from assorted milk chocolates to maple walnut creams. With such a vast selection to choose from, there is an option for almost everyone. Our selection of Stefanelli's includes their signature "Sponge Candy" which a combination of sea-foam toffee covered in chocolate. From experience, let me tell you this… once you have one, it is essentially game over as you've fallen victim to the domino effect. Once you have one, that turns to two, two turns to three… and so on. Trust me when I tell you this, the effect is real. To see our selection of chocolates, please visit HERE.
Source: http://www.laurascandy.com/images/chocolate.jpg
Finally, if all this were not enough to cure the Fall and Winter blues, let our selection of gourmet foods help rejuvenate, not only your mood, but your taste buds. Wake up on a cold Winter morning to a buttered roll, and instead of using "Land O' Lakes" butter, try some of our locally, homemade Rolled Amish Butter. If you're in an undeniable mood for pancakes or waffles, choose from our selection of locally, homemade maple syrups and try them in our wide selection of flavors including: Blackberry Pecan, Blueberry, Cinnamon Sticky Bun, Lavender, Red Raspberry and Shagbark Hickory. With such a selection of incredible flavors, you really cannot go wrong. And, if you are up for a delicious, hot cup of tea, we some fantastic honey that will compliment any cup of tea. To see our selection of specialty foods, please visit HERE.

Photo Credit: Stephen Hamilton
Add Amish butter cheese to any meal or snack and enjoy its creamy richness. This is a unique type of cheese with an exotic butter flavor that melts in your mouth. Made by the Amish, this butter cheese is used by people in many ways.
Amish butter cheese is derived from butterkase, its closest ancestor. Butterkase is a buttery and creamy cheese that originates from Austria and Germany. The cheese is pale yellow in color in spite of the red or golden natural rind. Butterkase is a popular cheese with 50 percent fat content. This cheese is semi-soft in texture.
Amish butter cheese does not come with the rind like butterkase. The pale yellow cheese with its buttery, rich, creamy flavor is obtained from cow's milk. Good quality Amish butter cheese is made from milk collected from cows that are not on artificial hormones. No artificial ingredients, flavors or preservatives are added to the Amish butter cheese during the preparation process.
Most of the Amish countries including Illinois, Indiana and Ohio are authentic sources of genuine Amish butter cheese. From the Midwest region, this butter cheese is then distributed by vendors to other parts of the nation through retail stores and online.
Bite into a piece of delicious Amish butter cheese and you will find its creamy and smooth flavor mesmerizing. The cheese tastes just like havarti and is popularly used for melting in fondue recipes. Amish butter cheese is enjoyed by many as a snack. If you place an order for burgers or sandwiches in any of the Amish countries, you will find them dripping with the easy to slice, semi-soft Amish butter cheese.
If you are fond of only the best quality cheese, it is important to choose authentic Amish butter. Remember that while most of the products labeled Amish butter cheese are genuine, some of them may just refer to Amish as a method of cheese making. These do not come with the Amish guarantee even though the butter cheese is supposedly made without preservatives and uses the same hormone-free cows. This is because milk is obtained from cows owned by different people and there is no guarantee that all cows are hormone free.
Enjoy the goodness of Amish butter cheese melted, grilled or sliced. If you are a cheese lover, you will certainly enjoy its versatility and smooth flavor. This butter cheese is the perfect choice for snacks and sandwiches.