Sometimes, the simplest of products are the ones that should be of the highest quality. This is what we believe and that's why we stock the very best Amish Butter.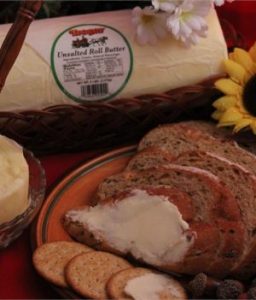 Our fresh and delicious Amish butter is produced locally and, like our Amish cheeses, this Amish butter is generally produced using milk from hormone-free cows with no preservatives are added. This makes for a much better tasting butter than anything you might find in the supermarket. You will find that it has an enhanced, natural, milky flavor that is just as delicious in dishes as it is on its own.
Butterfat is one of the byproducts of cheese making. As there are abundant amounts available from the local cheese artisans, Northern Ohio has become quite the production hub for fresh Amish butter as well. The butterfat gives an incredibly creamy texture and extra flavor compared to bland normal butters. We stock it in both salted and unsalted, so that you can use it for a variety of different recipes.
Salted Amish Butter
You really cannot beat salted Amish butter spread onto fresh bread or a delicious piece of toast. Try it with our pure clover honey for a sweet treat. You could even have a go at making your own bread to really enhance the experience. We love making a simple meal like breakfast a real event with stunning ingredients.
It's perfect for cooking vegetables to add seasoning and extra color. Pop some on your cheeseboard for those who like butter with their cheese and crackers. It's also excellent for adding to sauces to create a smooth finish and add depth to your dishes.
Unsalted Amish Butter
This is perfect for all of your baking needs. Whether you're whipping up a batch of brownies, some fun cupcakes or even a stack of pancakes, you'll find that Amish Butter is the best ingredient to use. The high butterfat is ideal for making brilliant shortcrust pastry and cookies that melt in the mouth. Why not try making our favorite crepes recipe with our butter and taste the difference today?
Amish Products
If you've enjoyed our butter then we have a whole range of products that you're sure to love. Start with our Amish Butter Cheese, made from the best butter. It is a rich, creamy cheese that works well in sandwiches and cooking. Several of our gift boxes showcase Amish flavors, including our Amish Cheese and Goodies Box and the Amish Country Sampler Box. We also offer a local Amish Peanut Butter that is great for baking with or enjoying in sandwiches. For snacking on movie nights or when you're hiking, try our Amish Hot Mix. This includes hot Cajun sesame sticks, taco sesame corn sticks, redskin peanuts, pretzel twists, and chili bits for all of you spice lovers. Many of our cheeses are also locally produced using the Amish method and farm fresh milk. We're proud to support our local community and provide our customers with the very best quality!