On the Map…
Amish Country is comprised of several northern Ohio counties, its biggest population residing in Holmes County, which is where approximately half of Ohio's Amish families reside; research indicates that Holmes County may be the first county in the nation where the majority of residents are Amish. Other neighboring counties having Amish communities are Wayne, Tuscarawas, and Coshocton Counties. Visitors to these regions may also note an Amish influence in Ashland and Knox Counties.
Why Visit?
Why is Amish Country one of the most sought-after and visited places in the state of Ohio? The answer is simple, but for many reasons. Amish Country truly portrays the "blue collar, working class" style of life where nothing is taken for granted and every resource is used to culminate Earth's natural products. Another reason to visit Amish Country is its sheer, flawless beauty, ever-changing with the seasons. It is a very beautiful country that gives us a glimpse of life before the infrastructure, transportation networks, airline networks, and other technologies of today. For those looking for a peaceful escape from the "hustle and bustle" of daily life, they will find it at the heart of Amish Country. Not to mention the Amish country Ohio cheese that is always delicious!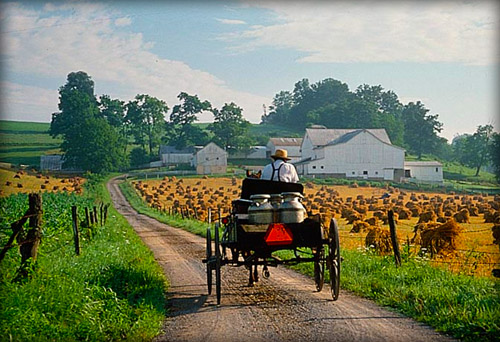 Some major Amish communities include…
Berlin
Charm
Fredericksburg
Millersburg
Sugarcreek
Walnut Creek
Winesburg
A Look Into The Past
The Amish lifestyle is a good reflection for us to look into our own past. This lifestyle provides us with a great opportunity to go back in time when technology and machines were not at the forefront and when life was slowed down which enabled us to take pride in the work our hands and minds could accomplish.
With the rush of new technology that has taken our world by storm in the last handful of decades, the Amish found ways to thrive through this mass technology movement and remain true to their ways of life, not letting these waves of technology and machines take away a person's ability to work with their hands and reaping the fruits of their labor. The most iconic image of Amish Country is the "horse and buggy" as once you've seen this method of transportation, you'll know you're in a world where pride in handiwork far exceeds the capacities of technology, and that is a wonderful thing and a delightful change of pace in world otherwise dominated by technology and machines.
A Taste of Amish Country in Ohio…
Unless you're from Amish Country or have taken trips to take in the life and culture of the Amish lifestyle, then you may not entirely have a solid understanding or appreciation of Amish folks and their lifestyle. As touched on earlier, Ohio has a number of counties with large populations of Amish households with the number continually growing. With Holmes, Wayne, and Hardin Counties leading the way in Amish populations, it is believed that in the next 4-5 years, Holmes County will have more Amish populations, than English (as they term "non-Amish" folk).
There are four orders of Amish lifestyle; each being entirely different from the other… the Swartzenruber Amish, the Andy Weaver Amish, the Old Older Amish, and the New Order Amish. It is the Old Older Amish that plays the traditional role of foregoing technology, instead using the former ways of hand and tireless work while using the horse and buggy for transportation.
There are two main religious sects that dominate the Amish lifestyle, Mennonite and Amish. With church districts made up of around two dozen families, Amish families continue to grow. Amish children are less likely to leave, but remain a part of their community or relocate to a neighboring Amish community. It is not uncommon for one farm to have multiple generations living and working on the same farmstead.
Large farms were once at the center of Amish life, but that has slowly been evolving in a different direction. With the growing number of Amish populations across the region, along with increasing land prices, purchasing farmland has become challenging. This has led to a change in societal development. In order to adapt to this change, smaller-sized farms are replacing large grain farms and are more common. Vegetable production produces enough for a number of families. Also allowing for these vegetables to be sold to the public as a means of additional income. These sales are usually done through auction sites now.
Although the Amish may disagree on certain issues, there are a number of things they do agree on. One of these ideas centers on a tireless work effort with their practices not having any influence on the modern world of advancing technologies. Essentially they stay true to their roots.
Amish Farmland…
Amish farms continue to be the apex and heart of Amish Country. While the number of farms has not increased nearly to the extent that the Amish population has. Many families remain on the family farm by adding housing, as the children grow up.
In recent years, a movement from agriculture to more trade work has transpired. Research illustrates that around 17% of Amish men continue to work on farmland while the remainder work as skilled craftsmen. Hardin County remains the only county where a majority of the men continue to work on farmlands.
The Road To Amish Country Ohio Cheese…
The road to Amish Country was once a less traveled route. However, in recent years, this road has since become well-traveled and explored. On your way to Amish Country, be sure to stop by some iconic and very well-known stops. From The J.M. Smucker Company known for their iconic jams, jellies, and other delights to the Kidron Auction, Ohio's oldest auction, since 1923 to Troyer's Pantry, an Amish bakery, you can't go wrong experiencing Amish tradition at any one of these stops.
As you're heading to Amish Country, along the road to Amish country, be sure to stop by a small, family-owned store along US Route 30 in Orrville, Ohio, Shisler's Cheese House. 
Shisler's Cheese House is a family-owned specialty store! We focus on traditional culinary treats ranging from a wide array of imported and domestic cheeses. Also, we provide meats, candies, cookies, and other delicious treats for an on-the-go meal or delicious snack.
Got your fill of cheese, meat, chocolates, and other decadent goodies? Let Shisler's Cheese House be your one-stop shop for your ultimate "Road To Amish Country" experience!