About Ohio Amish Country
The Amish Communities are a big part of Shisler's Cheese House. We pride ourselves in using local trade, producers, and Cheesemakers when we can. It is important to us as just as much as our customers, especially our regulars because you're what keep us going. With everything over the years changing and becoming more modernized and grocery stores putting everything under one roof, it can really take its toll on local businesses.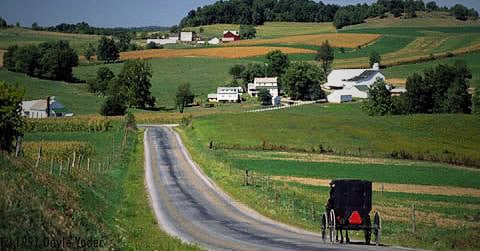 This is why we love our Amish Community. The Amish people are Amish because of their religion. What they believe comes directly from the Bible:
"Do not love the world or the things in the world. If anyone loves the world, love for the Father is not in him." I John 2:15 RSV
Amish people came to the United States in search of religious freedom, as did many immigrants. In the 1700s, between 50 and 100 Amish families arrived in America, settling mostly in Pennsylvania. Many others followed in the 19th century. Over the years, various orders of Amish spread into Ohio.
They live in homes without electricity or telephones, ride in buggies and wear plain, home-made clothing. They choose this way of living because they do not want to conform to the rest of the world.
In the same sense, the Amish produce milk, meats, cheese all naturally with the best, high-quality results. The quality of our products is not something you can find in a grocery store. Products from grocery stores can be full of harmful things that are simply unwanted but needed in mass production and animals are often treated cruelly.
In Amish Country, people and animals are living a simple, free life, how they believe God intended.
With this, we are passionate about supporting their local business and products in the same way our friendly customers do.
You can always count on having not only high-quality products but an experience like no other at Shisler's Cheese House. We genuinely care for each and every one of our customers and look forward to seeing and meeting you all while helping you with all your cheese and like gourmet needs! Having been a family run business for almost 60 years, you can guarantee to have a warm, family welcoming.