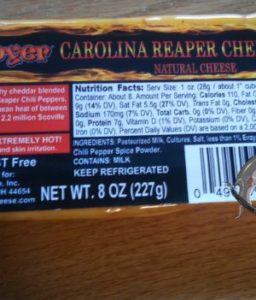 We know that you love spicy cheeses and that's why we're super excited to tell you about our Carolina Reaper Cheese. This is a rich and creamy cheddar blended with Carolina Reaper Chili Peppers. Tasting Carolina Reaper Cheese is an experience that you won't forget! This cheese may actually cause a rush of endorphins, and may even put hair on your chest!
For reference, the Scoville Heat Scale measures how spicy foods are in Scoville units. A bell pepper has a Scoville rating of 0, with paprika reaching 1,000 and a jalapeno heading up towards 10,000. A Cayenne Pepper is between 30,000 – 50,000 Scoville units. Carolina Reaper pepper is between 1.4 million and 2.2 million Scoville units!
This is a cheese to try with friends. Watch their reactions as they try to withstand the spice. You could use this in recipes but be careful to only add a little at a time if you want to make something that is enjoyable to eat as well as surprisingly spicy! Our favorite way to enjoy it is to simply pair it with crackers and challenge our friends to eat it.
If you know the spice might be too much, have a glass of milk or a square of chocolate on hand. Casein, the protein found in milk, breaks down the bonds that capsaicin (the active component that makes chili peppers spicy) forms on our nerve receptors. Milk chocolate is best because of its higher volume of casein, but capsaicin is also more soluble in fat than in water, so it will be carried away by the fat content of the chocolate. We don't need another excuse to eat some chocolate, but we think this fiery cheese might just need it!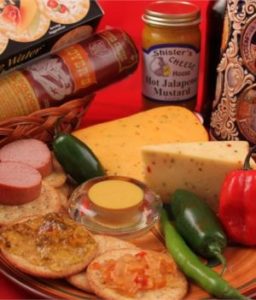 If you want to try a whole range of spicy cheeses then we have you covered:
Scorpion Cheddar is our second hottest cheese. It has 1.2 million Scoville units of heat. This is another one to take to a party and challenge your friends to take a bite.
Ghost Pepper Cheese is made from the Indian Bhut Jolokia pepper. It has a Scoville score of 855,000. This is a slow burner so be sure not to eat too much at once!
Hot Pepper Cheese is perfect for adding just a hint of spice, whilst still enjoying a creamy cheese.
We even offer a Hot Stuff Collection, which includes Hot Pepper Cheese, Habanero Cheese, Troyer's Trail Bologna with Hot Pepper Cheese, Shisler's Private Label Hot Pepper Relish, Shisler's private label Hot Jalapeno Mustard, Hot Pepper Jelly, and Carr's Crackers.
Do you love spicy cheeses? Let us know if you would try Carolina Reaper Cheese in the comments!
CAUTION: This cheese is extremely hot and can cause eye and skin irritation.
We know that lots of you are spice lovers. That's why we've decided to dedicate this blog post to telling you all about our spiciest cheeses.
Scorpion Cheddar is our absolute hottest cheese. It has 1.2 million Scoville units of heat. A bell pepper has a Scoville rating of 0, with paprika reaching 1,000 and a jalapeno heading up towards 10,000. This should give you a sense of just how hot this cheese really is! This is one to take to a party and challenge your friends to take a bite.
Ghost Pepper Cheese is made from the Indian Bhut Jolokia pepper. It has a Scoville score of 855,000. This is a slow burner so be sure not to eat too much at once!
Smoked Habanero Cheddar is another of our hottest cheeses. It combines vintage aged cheddar, habaneros, and jalapenos. It's great with dips and salsas as a snack or thrown into your favorite sandwich or burger. For that authentic smoky flavor, sprinkle it on your tacos.
Super Hot Pepper Cheese packs a spicy punch but won't be as overwhelming a challenge as our Ghost Pepper or Scorpion cheese.  
Hot Pepper Cheese is perfect for adding just a hint of spice, whilst still enjoying a creamy cheese.
Smoked Hot Pepper Cheese takes our Hot Pepper Cheese and adds the delicious effects of curing slowly with real hickory wood. It combines spicy and smoky flavors. Try pairing this with a Chardonnay or Pinot Noir for extra taste exploration.
Smoked Horseradish Cheese is not strictly a chili cheese, but we still think that horseradish has a similar kick to it. Our is an American, semi-firm cheese infused with horseradish root. This is perfect served alongside prosciutto or thinly sliced smoked ham. You could even try mixing it into your mashed potatoes; brilliant with beef.
Yogurt Cheese with Jalapenos is a great choice if you're looking for a spicy cheese with lower calories. Yogurt Cheese has a lower calorie and fat content compared to traditional cheese. It is made from the creamy white cheese left over when the liquid whey drains from fresh yogurt. It has a creamy, rich taste alongside the spicy, tangy jalapenos.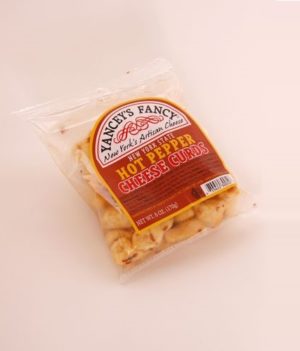 Hot Pepper Cheese Curds are fresh, young cheddar cheese in the natural, random shapes that form before the cheese is processed and aged. We found the finest cheese curds from upstate New York. Their flavor is mild and whilst they have the same firmness as cheese, they have a rubbery, 'squeaky' texture and are sometimes salty. You will sometimes find these deep-fried in batter or breadcrumbs. They are also used in poutine, a Canadian dished consisting of French fries topped with cheese curds and gravy. Alongside our Hot Pepper Cheese Curds, we also offer Buffalo Wing Cheese Curds.
Serve your favorite spicy cheeses with some crackers and dips, and a good cold lager.
Have you taken on the challenge of Scorpion Cheddar? Let us know in the comments!
Although the Hispanic cuisine is usually hot and spicy, the cheeses of Mexico and the Caribbean are far from it. The most popular cheeses of the region are the fresh white varieties. They may be quite mild, but they add rich, creamy flavor to the huge number of local recipes available.
Cheesy Mexican and Caribbean dishes like queso Frito, enchiladas, and chile Rellenos are famous all around the world. It's almost impossible to imagine that before Spanish colonization, the inhabitants of Mexico lived largely on a diet of fruit and vegetables. The art of cheese making wasn't even known until the Spaniards brought cows and goats to the area!
Cheese is still being produced in the Mexican state of Chihuahua, from the milk of cattle who originally came from Europe all those years ago. In other famous cheese making areas like Queretaro, Oaxaca, and Chiapas, cheese monger stalls are full with cheeses packed into baskets, wrapped in corn husks or rolled like twine.
The best cheeses from these regions are completely different in every way to Amercian or European cheeses, and they are very worth experiencing:
Chihuahua
Chihuahua is a pale yellow cow's milk cheese which can also be named Queso Menonita because of the Mennonite communities of Northern Mexico where it was first produced. The flavor is mild, slightly sour and salty, but actually turns sharp and tangy and very similar to Cheddar, with age. People often use it to make fundido, which is Mexican fondue.
Queso Quesadilla
This smooth, soft cow's milk cheese has a creamy, milk flavor and a slightly elastic texture. It is a family favorite for snacking on and melting into savory dishes such as quesadillas. A variety of this is called Queso Jalapeno and it has bits of jalapenos mixed into the paste for more spice and zest.
Cotija
Cotija is sharp, aged cheese that is known as the "Parmesan of Mexico". It gets its name from the town of Cotija Michoacan where it came from originally. It is made with goat or cow's milk and has a firm texture and strong flavor with distinctive salty notes. It makes for a good garnish for salads, chili, or pasta.
Queso Media Luna
Also known as Queso De Papa, this Colby-type cheese with its firm, moist texture and orange color has a smooth mild to a tangy flavor. It is a popular cheese in Puerto Rico and is from the Caribbean. Perfect for snacking on or baking with.
Fresh Cheeses
These fresh white cheeses of Mexico and the Caribbean can become warm and soft, without melting when they are heated. They were traditionally crafted by local artisans and delivered to market wrapped in banana leaves.
Queso Oaxaca (Asadero)
From the Oaxaca region, this famous cow's milk cheese is a stretched curd variety which is similar in texture to Provolone. It is either white or pale yellow and is kneaded and wound into balls before being plunged into brine for several minutes. This semi-soft cheese has a mild to a buttery and sweet flavor.
Anejo Enchilado
This cheese is firmly pressed and rolled in mild chili powder or paprika to give it a distinctive red coating and slightly piquant flavor. It is made with skimmed cow or goat's milk, with a hard, dry texture that softens under heat but does not melt. It makes a delicious snack with a tequila or spicy Mexican beer cocktail.
Queso Fresco (Adobera)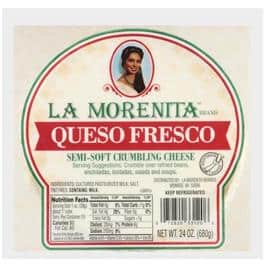 Queso Fresco is the most commonly used Hispanic variety. It is a soft and spongy white cheese which is made from a combination of cow and goat's milk. The flavor is mild and salty with fresh acidity. Because of its fine-grained texture, the favored use for it is crumbling it over enchiladas and taquitos for added flavor.
Panela (Queso de Canasta)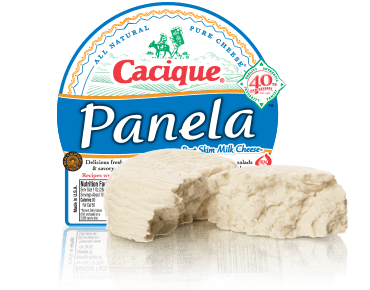 This is the most popular fresh cheese in Mexico. It is white, mild cheese which retains the unique imprint from the basket it is made in. The texture is soft and crumbly, with many different varieties being produced, Panela can be found wrapped in toasted avocado leaves or coated with garlic and chili paste.
Queso Blanco
It is traditionally fresh cow's milk cheese which is flavors cross between Italian Mozzarella and salty cream cheese. The process of creating this cheese is done by Artisans who coagulate the curd with lemon juice, giving it the creamy, but crisp citrus flavor.
Queso Para Freir
This cheese is popular in the Caribbean and throughout South America. It is a mild, white cheese and a variation of Queso Blanco, but a lot saltier and firmer. Queso Para Freir is great for fried dishes such as the popular Queso Frito because it resists melting.