Spice Up Your Life with our Red-Hot Pepper Cheeses!
We know that lots of you are spice lovers. That's why we've decided to dedicate this blog post to telling you all about our spiciest cheeses.
Scorpion Cheddar is our absolute hottest cheese. It has 1.2 million Scoville units of heat. A bell pepper has a Scoville rating of 0, with paprika reaching 1,000 and a jalapeno heading up towards 10,000. This should give you a sense of just how hot this cheese really is! This is one to take to a party and challenge your friends to take a bite.
Ghost Pepper Cheese is made from the Indian Bhut Jolokia pepper. It has a Scoville score of 855,000. This is a slow burner so be sure not to eat too much at once!
Smoked Habanero Cheddar is another of our hottest cheeses. It combines vintage aged cheddar, habaneros, and jalapenos. It's great with dips and salsas as a snack or thrown into your favorite sandwich or burger. For that authentic smoky flavor, sprinkle it on your tacos.
Super Hot Pepper Cheese packs a spicy punch but won't be as overwhelming a challenge as our Ghost Pepper or Scorpion cheese.  
Hot Pepper Cheese is perfect for adding just a hint of spice, whilst still enjoying a creamy cheese.
Smoked Hot Pepper Cheese takes our Hot Pepper Cheese and adds the delicious effects of curing slowly with real hickory wood. It combines spicy and smoky flavors. Try pairing this with a Chardonnay or Pinot Noir for extra taste exploration.
Smoked Horseradish Cheese is not strictly a chili cheese, but we still think that horseradish has a similar kick to it. Our is an American, semi-firm cheese infused with horseradish root. This is perfect served alongside prosciutto or thinly sliced smoked ham. You could even try mixing it into your mashed potatoes; brilliant with beef.
Yogurt Cheese with Jalapenos is a great choice if you're looking for a spicy cheese with lower calories. Yogurt Cheese has a lower calorie and fat content compared to traditional cheese. It is made from the creamy white cheese left over when the liquid whey drains from fresh yogurt. It has a creamy, rich taste alongside the spicy, tangy jalapenos.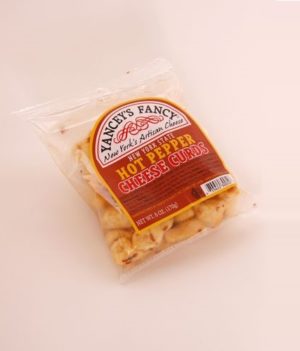 Hot Pepper Cheese Curds are fresh, young cheddar cheese in the natural, random shapes that form before the cheese is processed and aged. We found the finest cheese curds from upstate New York. Their flavor is mild and whilst they have the same firmness as cheese, they have a rubbery, 'squeaky' texture and are sometimes salty. You will sometimes find these deep-fried in batter or breadcrumbs. They are also used in poutine, a Canadian dished consisting of French fries topped with cheese curds and gravy. Alongside our Hot Pepper Cheese Curds, we also offer Buffalo Wing Cheese Curds.
Serve your favorite spicy cheeses with some crackers and dips, and a good cold lager.
Have you taken on the challenge of Scorpion Cheddar? Let us know in the comments!