With Christmas fast approaching, we thought the time had come to remind our lovely customers about our wonderful range of gift boxes.
Our Deluxe Gift Box contains more of our favorite Amish products than ever:
Troyer's Trail Bologna Ring 1 Lb.
Shisler's Gift Mug with 1/2 Pound of Heggy's Chocolates
Shisler's Private Label Apple Butter
Shisler's Private Label Hot Mustard
Wheel of Colby 3/4 Lb.
Wheel of Cojack (Marble) 3/4 Lb.
Block of Swiss Cheese
Baby Swiss Cheese Wedge
Summer Sausage Link
Crackers
Muffin mix
Shisler's Cheese House T-Shirt
The Troyer's Trail Bologna Ring is a chunky, all-beef bologna with a smoky taste, created by the fourth generation of the Troyer family. Our gift mug helps lovers of Shisler's Cheese House share their pride as they drink their morning coffee. We've filled it with 1/2 a pound of Heggy's Chocolates.
Shisler's Private Label Apple Butter is made from the best locally grown Apples and locally produced Amish Butter, perfect for spreading on toast or stirring into your recipes. We also love our Private Label Mustard, which can be used as a dipping mustard or spread into sandwiches.
Colby cheese is a semi-hard cow's milk cheese native to the United States. It is very mild and creamy. Cojack cheese is a blend of Monterey Jack and Colby cheese, marbled together to create a striking effect. Monterey Jack is a buttery, semi-firm cheese which originated in California. It is usually only aged for around a month, making it a fresh, fairly soft cheese to enjoy.
Swiss Cheese is a holey, semi-hard cheese with a creamy color. It has a nutty, slightly piquant flavor whilst simultaneously being somewhat creamy. You'll also get a wedge of Baby Swiss Cheese, which substitutes water for the milk's whey to slow the bacterial action. This creates smaller holes and a milder flavor. With all of this cheese, we've given you crackers so that you have something to enjoy it with!
Summer Sausage can be kept without refrigeration, which is how it gained its name. Ours is smoked, rather than dried, with a tangy taste. It's certainly too good to be kept for only the Summer season. Muffin mixes provide a great way to whip up some quick baking that your guests will love, without any stress.
Finally, because you're clearly a huge Shisler's Cheese House fan if you're digging into this gift box, you'll find your very own Shisler's Cheese House t-shirt!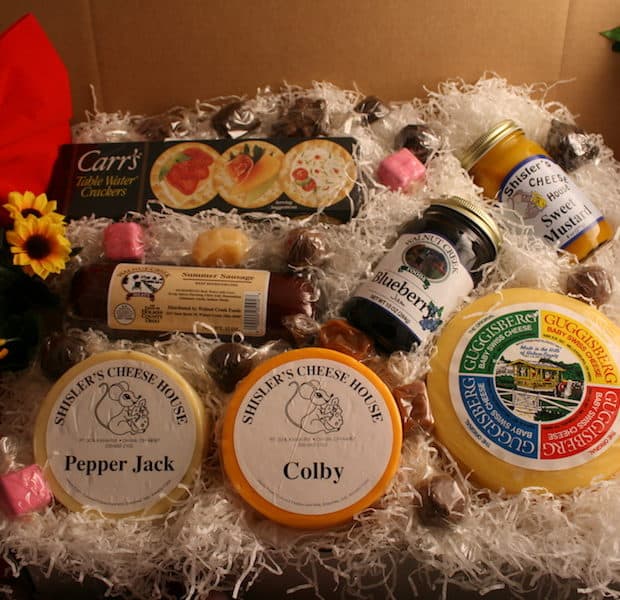 Our Amish Cheese and Goodies collection is another perfect gift for your loved ones this Christmas.You'll find a 1Lb. Baby Swiss Wheel, a summer sausage link, a ¾ Lb. wheel each of Colby and Pepper Jack cheese, Shisler's Private Label Mustard, home style Amish jam, Carr's crackers, assorted chocolates and 6oz. REACH coffee.
One of our other great gifts is the Troyer's Trail Bologna and Cheese box. Inside you will find a 1Lb. Troyer's Trail Bologna ring, a ¾ Lb. wheel each of Colby and Farmer's cheese and assorted chocolates.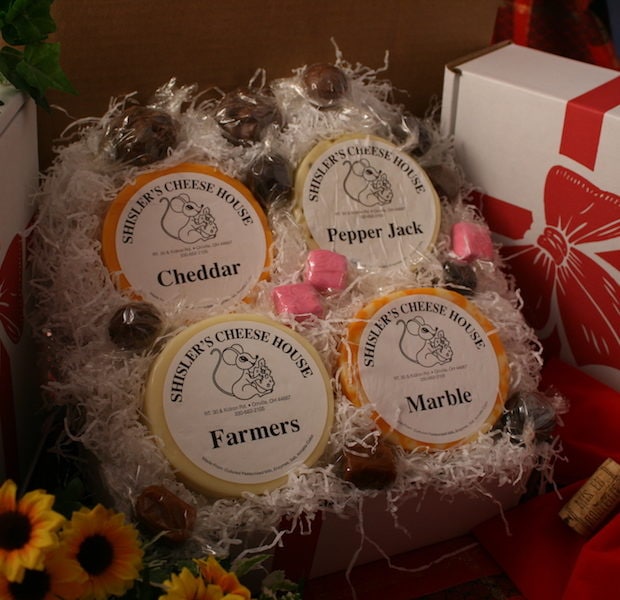 We all know someone who really loves cheese, and that's why we created the Cheese Lover's Gift Box. This contains a ¾ Lb. wheel each of Cheddar, Cojack, Farmer's Cheese and Pepper Jack, along with some assorted chocolates.
Check back in the coming weeks as we'll share more reminders about our delicious Christmas gift boxes!