Danny would be 82 tomorrow had we not lost him suddenly in 2004.  But his lagacy lives on in all that we do here at Shisler's Cheese House!
Growing Up
Dan Shisler was born in Dalton in 1937 and graduated from Dalton High School in 1955. He was one of the best baseball players that ever came out of Dalton High School. He played for Ohio University and got drafted into the St. Louis Cardinals. Then came a shoulder injury that abruptly ended his pro baseball career.
Buying the Cheesehouse
So in 1959 he came back home and bought Shisler's Cheese House, then a brand-new fledgling business, from his father, John Shisler.  Dan quickly tripled the size of this business, with hard work and ingenuity in the retail.  He was the one who developed our cherished concept of treating every customer like family.
Shipping Cheese
Dan also started the shipping division of our business to serve locals who had moved out of the area.  Back then, he had to vacuum-pack the products himself using a shop-vac and plastic bags made pliable in a bucket of hot water.  We didn't have the insulated shipping containers, the frozen gel packs, or dry ice we use to keep the products fresh today.  Trail Bologna and Swiss Cheese were the only  product he shipped, and he could only ship to the warmer climates during the winter months.  Dan prided himself in finding the right size box,  and would do a little happy dance when when we drove to Canton to drop the packages off at UPS.
The shipping division wasn't very profitable at the time due to the effort and additional costs involved.  But he seemed to do it out of a sense of service to his loyal long-term customers.
Today, we ship to all 50 states and over 30 countries year-round, and our shipping division is rapidly approaching our retail division as our primary business model.    He had the foresight into the value of direct shipping long before Amazon was born.
Legacy
Going from a professional baseball player to a cheese monger may not have been Dan's dream.  But he left a legacy of a successful retail business behind that has continued to thrive for 61 years.
We miss you, Dan.  We are sure you are cutting lots of cheese in heaven and playing baseball every day, reciting the scores of every professional game in history and still dreaming of the St. Louis Cardinals.  DJ and Dennis have followed in your footsteps in the cheese business. We still joke about your vacuum packing methods back then. we still remember you joking with the customers and keeping the landscaping around the store to perfection.
We love you, and are proud of three generations of Shislers , thanks to your hard work and dedication.  The fourth generation is already becoming active in the business.  HAPPY BIRTHDAY, DANNY SHISLER….hope you and the angels are playing baseball and still savoring cheese today.
Very Nice Article about us by Dan Starcher of the Daily Record:
ORRVILLE — The small roadside store at the corner of U.S. Route 30 and Kidron Road, known as Shisler's Cheese House, has served as a landmark to cheese connoisseurs, including comedian Bob Hope, for 60 years.
To celebrate, owner Rita Shisler is having a party. Festivities at the store, located at 55 Kidron Road, Orrville, started Friday and continue Saturday. There will be free bratwursts, prizes, music, face painting, a bounce house and, of course, cheese samples from 8 a.m. to 6 p.m.
"I remember picking up the phone one day and the caller said, 'This is Bob Hope and I would like to order some Baby Swiss,'" said Rita Shisler. "I didn't believe it, but the check came with his name, address and signature. I talked to him four or five times per year, every year, until his death. After Bob died, his wife would call and order cheese until she passed away."
Shisler didn't exactly know how Hope heard of the store, but she kept copies of his checks and his signatures as mementos.
Another big-time order came courtesy of the owner of the NFL's San Diego Chargers.
"The team owner of the Chargers came in and had some ham," Rita recalled. "He fell in love with it. He then had me ship them to every team owner across the United States. I did that for years. We packed them in coolers and enclosed a card. Even as new owners came along, we would send to them. He wanted all of the other owners to have some Streb's Ham."
Another story, Rita recalled, was when Grandpa John Shisler was taken to jail for operating the business on Sunday. "He purchased the store from Fred Bieri in 1958 and back then there was a law, the blue law, that you could not be open on Sunday to conduct business."
An angry John Shisler said that the government would not tell him when he could work and when he couldn't. The story goes that the local authorities sent a person into the store to buy some bread, then returned to arrest him after the sale was made.
"The family went to post bail but he refused," said Rita. "They finally released him after a couple of days."
John Shisler's son, Dan, took over the store in 1959 and, after he and Rita were married, he went to work elsewhere and Rita took over operations. She has been growing the operation ever since. Dan passed away 14 years ago.
At 72 years old, Rita Shisler isn't slowing down. In fact, she is as busy as ever serving in various civic organizations, but she is slowly turning business operations over to her son, Dennis, while her other son, DJ, runs a store in Copley.
Dennis served in the United States Marine Corps, attended college and worked in the corporate world for a number of years before returning to the family business.
"I never thought I would be here today. I never wanted to come back. I never wanted to live here. I never wanted anything to do with a small town," said Dennis. "But after my daughter was born, I reconsidered."
Since coming to work for his mother, Dennis has focused on modernizing operations and building the internet ordering component of the business.
"She has brought the store to this level and she is wonderful for public relations," Dennis said. "She really brought this place to the next level from a marketing standpoint. She built up the retail business, and I want to expand it online and focus on website sales."
A steady stream of loyal customers were pouring in on Friday as Rita was celebrating six decades of business with friends and family while offering bratwursts and cheese samples to customers outside.
"I have been making the trip here from Massillon for more than 30 years for Swiss cheese," said Robert May. "Everything they have is great and the people are so friendly."
Linda Nussbaum of Orrville has been frequenting the store for 40 years.
"We used to stop here and get cheese on our way to our grandparents' house nearby," said Nussbaum. "We would have it eaten before we got there."
Rita attributes much of the success of the business to her mentor, Harold Freedlander, of the former Freedlander's department store.
"I was struggling with the business and I went to SCORE (service corps of retired executives), and he became my mentor," Rita said. "He helped and guided me and that is when things started to connect and the business began to turn around. I thank Harold Freedlander from the bottom of my heart."
Visit Shisler's Cheese House online at www.shislerscheese.net and www.wordpress-436460-1531479.cloudwaysapps.com for additional information.
The original article in The Daily Record can be found here.

What is Swiss Cheese?
A holey, semi-hard cheese with a creamy color.
How does it taste?
It has a nutty, slightly piquant flavor whilst simultaneously being somewhat creamy.
How is Swiss Cheese made?
The process of making Swiss cheese involves natural bacteria consuming the lactic acid in the cheese. This releases carbon dioxide gas, which forms bubbles that become the holes in the cheese. These are often referred to as "eyes". Our Amish swiss cheese, made in Northeastern Ohio, is especially flavorful because of the longer aging process that it undergoes, at a higher temperature than younger cheeses. This produces larger eyes, which is sometimes seen as an indicator for better flavor.
The milk used in our Swiss cheese does not have preservatives added and is always from cows that have not been given hormones or antibiotics.
We also offer Baby Swiss, which substitutes water for the milk's whey to slow the bacterial action. This creates smaller holes and a milder flavor. Lacy Swiss is another variety of Swiss cheese, made with low-fat milk. We even offer smoked Swiss cheese.
How should I eat it?
Swiss cheese is delicious in a sandwich or served cut into cubes alongside salads and hams. It works well with most meats and is particularly good with a beef burger.
Use it as fondue or mix it into dips for a fun dinner party meal or appetizer.
For breakfast, eat a slice of it with ham in a croissant. You could even have fruit with it, as it has a nutty, caramel quality that complements apples and grapes well. It's also very good with pickled fruits or vegetables. Consider adding them to your next cheeseboard for flavor and bite.
You could add an extra punch of flavor to your favorite mac and cheese by grating in some Swiss cheese. It is equally good with other pasta dishes, such as a creamy spaghetti or a linguine with vegetables. Use it with your breadcrumbs when making schnitzel for an extra crispy, cheesy bite.
What should I drink it with?
It goes well with Belgian ales or other creamy beers such as a pale ale. A light red wine such as Pinot Noir or Zinfandel won't overpower the light flavor of the cheese but will bring out its sweetness. You may also find that crisp white wines such as Rieslings make a good companion for this cheese.
For a non-alcoholic option, an apple cider would be a good option as the apple flavors will offer a honey quality alongside the cheese.
How do you like to eat Swiss Cheese? Let us know in the comments!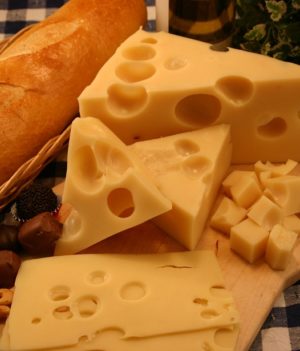 We are huge fans of Swiss cheese here at Shisler's Cheese House. We have a whole range to keep you happy and today we're giving you 5 ideas for ways to enjoy Swiss cheese.
The process of making Swiss cheese involves natural bacteria consuming the lactic acid in the cheese. This releases carbon dioxide gas, which slowly forms bubbles that become the recognizable holes in the cheese. These are often referred to as "eyes". Our Amish swiss cheese, made in Northeastern Ohio, is especially flavorful because of the longer aging process that it undergoes, at a higher temperature than younger cheeses. This produces larger eyes, which is sometimes seen as an indicator for better flavor.
The milk used in our Swiss cheese does not have preservatives added, and is from cows that have never been given hormones or antibiotics. This creates a great taste and you know exactly what you are eating.
We also offer Baby Swiss, which substitutes water for the milk's whey to slow the bacterial action. This creates smaller holes and a milder flavor. Lacy Swiss is another variety of Swiss cheese, made with low-fat milk. We even offer smoked Swiss cheese.
On Crackers
Swiss cheese is well known for its nutty, bittersweet taste. This is perfect enjoyed on your favorite crackers. Add a couple of other cheese, some grapes, and relishes, and you've got a full cheeseboard.
Paired with your favorite wine or beer
This is such a versatile cheese that you can easily find a beverage pairing for it. If you're a fan of red wines, try a Merlot or Pinot Noir. For white wine lovers, try a Chardonnay or Riesling. Swiss cheese will also pair well with lager, pale ales, and Weiss beer.
Cheese Fondue
Fondue is a decadent treat that's perfect at the end of a cold day, or to share with friends and family. Simmer 10 fl. oz. white wine in a fondue pot, before adding 10 oz. each of Swiss and Gruyere cheese. Make sure everything is melted before stirring in 2 teaspoons flour. Season with salt, pepper, and nutmeg. Serve this with cubes of your favorite bread, chopped vegetables, and cured meats.
Mac and Cheese
Add an extra punch of flavor to your favorite mac and cheese by grating in some Swiss cheese. You can even add it to breadcrumbs for an extra crunchy topping.
On French Onion Soup
A firm favorite for warming you up, French onion soup is incomplete without a topping of Swiss cheese toast. Thinly slice small pieces of your favorite bread, add grated Swiss cheese and grill before serving with your soup.
If you love Swiss cheese as much as us, why not treat yourself this to our gift box this Christmas?  You'll find a whole 4lb. Baby Swiss cheese, perfect to share with the whole family.
However you like to eat your Swiss cheese, you can find it all here at Shisler's Cheese House!
We know that lots of you love drinking wine with our cheeses. We've already shared some great pairing ideas for our Red Wine Collection and White Wine Collection. Today we're going to share something a little more unusual; beers to pair with our Beer Collection!
When pairing beers with cheeses, follow the same principles as a wine pairing. You're looking for beers that will complement the flavor of the cheese without overpowering it. This collection should serve around 20 guests. Read on to find out which cheeses are included and how you can pair them with beer for a really fun evening.
Brick
Our Brick cheese is an American original from Wisconsin. It's a medium-soft cheese with an easy crumble. Whilst this cheese had a sweet, mild flavor when it is young, it matures into a strong, ripe cheese.
To complement these mature flavors, look for a bold, fruity pale ale. This will stand up to the ripe cheese in the same way that a Sauvignon Blanc might. For a younger cheese, consider a Weiss Beer.
Gouda
Gouda is a yellow cow's milk cheese with a wax coating. It undergoes a process known as "washing the curd" which creates a sweet cheese with a slightly crunchy saltiness.
All of this makes it a very versatile cheese for drinks pairings. You'll also find it in our White Wine Collection for this reason. One great choice would be Helles. This is a German, pale, lager-style beer with a smooth flavor. Alternatively, a beer with caramel notes such as a malty IPA would work well.
Gruyere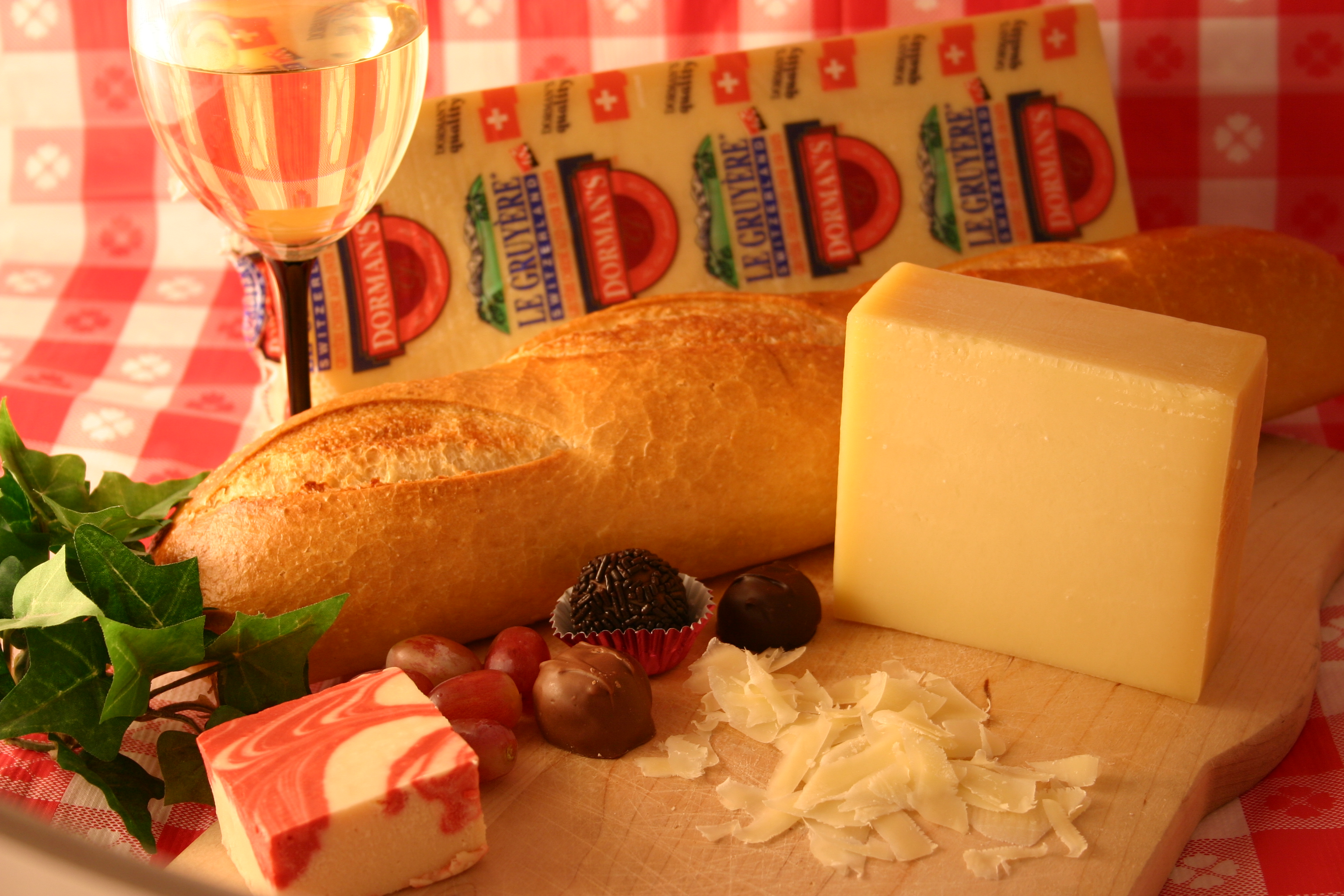 Gruyere is a sweet and nutty cheese, which develops a salty earthiness as it is aged from five months to up to a year. This gives it its slightly grainy texture.
Gruyere will pair well with a number of beers but one of the more unusual choices would be a porter. This a dark style of hoppy beer with brown malt. It's full-bodied, with a roasted flavor that will complement the nuttiness of this cheese. Add a fruity relish for even more flavor.
Ohio Premium Swiss Cheese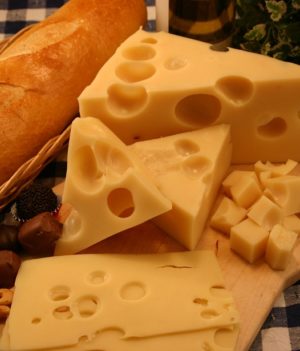 Our Ohio Premium Swiss is made in Pearl Valley through a time-honoured process that gives this cheese its distinctive holes and a nutty, bittersweet taste.
A Weiss beer is a great choice for Ohio Swiss as it adds creaminess and complements through the sweetness. This is a beer made with malted wheat in place of some of the usual barley. It produces a beer with low bitterness and some fruity qualities. You could also try Swiss Cheese with a pale ale or craft lager.
Other great cheeses to pair with beers are Limburger or Beer Cheese. We stock both of these cheeses but have chosen not to include them in the collection as they both have a strong smell that might be imparted to the other cheeses in the box. Why not pick them up separately for the ultimate cheese and beer tasting?
Try our Beer Collection today, bring together some friends and have some fun with a cheese and beer evening!
The 5 Best Swiss Cheeses You Need To Try!
Image Source: http://www.bbc.com/travel/europe/switzerland
One of the most vital parts of the culture and history of Switzerland aside from its majestic landscapes and mountainous scenery, is its cheese. This is markedly evident as over 100  different cheeses are produced throughout Switzerland.
Cheese is a very important aspect of Swiss Culture! Dairy farming in the Swiss Alps dates back 2,000 years, to the time of ancient Romans, making it a crucial part of Swiss life and traditions. To this day, over 100 different cheeses are manufactured in Switzerland. It may come as a surprise that these cheeses are not mass-produced but in fact made in hundreds of smaller dairies which are controlled by a master cheese maker to ensure the best and most high standard cheeses.
Many cheeses of Switzerland often have their names plagiarized and abused. However, regardless of the fact that the cheeses are plagiarized, there is a long list of cheeses that originate from Switzerland.
Here is a list of the 5 best cheeses which are unique to Switzerland:
1. Appenzeller
This is a hard cheese made from cow's milk. It is light-colored and cured in herbal brine using wine or cider. Its name is from the region is it manufactured in Appenzell, which is located in northeast Switzerland. The flavor is often said to be nutty or fruity, ranging from mild to tangy, with a strong smell to it.
2. Sbrinz
This cheese comes from central Switzerland and is unique because of 42 dairies in the region produce it. The cheese is extra hard with a smoother, nuttier flavor that has a less salty taste.
3. Schabziger/ Sapasago
This hard cheese is made in the Canton of Glarus region using skimmed milk and blue melilot (blue fenugreek), which is a herb which gives the cheese the green color. Its flavor is pungent, salty and sour which the smell matches.
4. Tilsit/ Tilsiter
This cheese is only semi-hard and dates back to the Prussian-Swiss settlers in the Mid- 19th Century. It is light-yellow colored with the flavor of a buttery, yet tangy kind that varies from slightly strong to pungent, depending on how long it has been aged. Sometimes it is said to taste like peppercorns.
5. Vacherin-Fribourgeois
This cheese is also semi hard and is manufactured in dairies of the canton of Fribourg. It is made from cow's milk and has a semi to hard consistency and is covered in greyish- yellow rind. Because it is cured in damp conditions, it can be mildly acidic.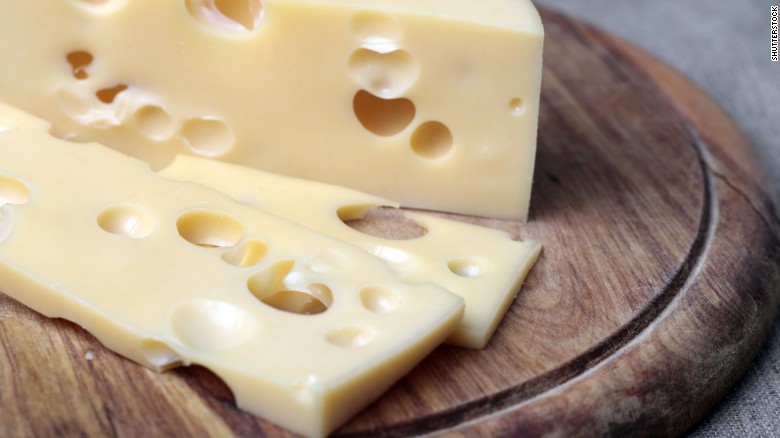 For more than a century, the holes in Swiss cheeses such as Emmental have been attributed to carbon dioxide given off by bacteria. But that's not the whole story, and now the Swiss have determined exactly why the holes form the way they do.
The culprit? Hay.
In recent years, the holes in Swiss cheese – known as eyes – have gotten smaller because processing centers have gotten cleaner, according to the Agroscope Institute for Food Sciences, a Swiss research center.
The old-fashioned barns and buckets of previous years allowed more and larger hay particulates into the process, leading to bigger eyes. John Jaeggi, a researcher at the University of Wisconsin's Center for Dairy Research, compares the relationship between eyes and particulates to the formation of raindrops. It all goes back to what's called "heterogeneous nucleation," he says.
"Rain forms around dust particles, and it's kind of the same principle," he says. "With these little specks of hay powder in that cheese body, that's causing weaknesses in the curd structure and then that's where the gas is going to form and get your eyes." It doesn't have to be hay, either, he adds — other particulate matter can do the same thing.
The basic theory regarding eyes and carbon dioxide is credited to William Mansfield Clark, a Department of Agriculture chemist, who published "A Study of the Gases of Emmental Cheese"in 1912. He used an apparatus of glass cylinders and mercury to capture gas. To make their discovery, the Swiss scientists used a CT scanner and followed the ripening of a cheese over the course of 130 days, Swissinfo reported.
Jaeggi, a third-generation cheesemaker with Swiss ancestors, says the new study has given a longtime belief in the cheese industry hard scientific proof. "They've basically put the science behind what was commonly known," he says.
Cheese gets a might bad rap for clogging arteries and packing on the pounds. But just because you shouldn't eat an entire platter of Paula Deen's cheese balls doesn't mean you have to avoid cheese altogether.
Cheese can be both delicious and a great source of lean protein, calcium, phosphorus, and other health benefits — if you choose the right varieties. Here are five cheeses that belong on any shopping list.
1. Feta
A key component of Greek cuisine, feta is lower in fat and calories than most cheeses, says Natalie Caine-Bish, an associate professor of nutrition and dietetics at Kent State University. A one-ounce serving — enough to make a Greek salad lover happy — has 4 grams of protein and only 74 calories.
Caine-Bish says feta's characteristic strong flavor means you can get away with using less cheese without feeling cheated. Feta's salty flavor makes it a good choice to crumble on salads and soups. It also pairs well with sweeter produce, like watermelon or sweet potatoes.
Tip: Although domestic feta is often made with cow's milk, Greek feta is made from sheep or goat's milk, which makes it a good choice for someone with problems digesting bovine dairy products. Keep in mind, though, that unpasteurized feta and other soft cheeses have a higher risk of containing the Listeria bacteria than other cheeses — so be sure to buy pasteurized feta if you'll be serving it to a pregnant woman or someone with a compromised immune system.
2. String cheese
Seriously. String cheese, that favorite kid snack, is a great choice for adults too.
For starters, if you choose string cheese made of part-skim mozzarella, it's low in calories and high in protein (a one-ounce serving has 71 calories and 7 grams of protein).
What's more, string cheese isn't actually a processed cheese — mozzarella naturally behaves in that stringy way, so it counts as a whole food. (Just make sure to buy string cheese that's 100 percent mozzarella.)
Tip: String cheese is "quick and easy — grab and go, and already portioned out for you," says Silvia Veri, the nutrition supervisor at Beaumont Health System's Weight Control Center in Royal Oak, Michigan. The fact that it's prepackaged makes it handy for healthy snacks at work, between errands, or at home.
3. Parmesan
Like feta, Parmesan is a great choice because just a little packs a potent, nutty punch.
Parmigiano-Reggiano comes from the Parma area of Italy, and its strong flavor has inspired a lot of buzz throughout history: Samuel Pepys famously buried his Parmesan cheese to keep it safe during the Great Fire of London, and Boccacio, in The Decameron, imagines a mountain of Parmesan inhabited by macaroni and ravioli makers.
Parmesan is relatively low in calories (110 in a one-ounce serving), but it's high in sodium (449 milligrams for the same serving size), so be sure to use it in moderation.
Tip: Try shaving pieces onto a salad or eating small slices with ripe apples or pears, in addition to grating it over pasta and pizza.
4. Swiss
Swiss is another strong cheese that's good for you. What we call Swiss cheese is often Swiss Emmentaler (or Emmental), though other cheeses with a similar taste and hole-studded texture are sometimes lumped in as well.
Swiss is a popular cheese, and Caine-Bish likes it specifically for that reason. Since it comes in a number of varieties, including low-sodium or low-fat, it's easy to find a version that fits your dietary needs.
As a hard cheese, Swiss is also richer in phosphorus than nearly all soft cheeses. According to Caine-Bish, "Calcium and phosphorus are key to bone formation and to maintaining bone density" — important for women of any age.
Tip: Try adding a slice to your sandwich or grating a few ounces into scrambled or baked eggs. Small slices or cubes make a great snack, especially with fruit instead of crackers.
5. Cottage cheese
There's a reason dieters love cottage cheese: It's high in protein, low in fat (if you buy a low-fat variety), and versatile enough to add to most any meal or snack.
"You can eat it with almost anything," says Veri. "You can eat it with veggies and make it savory, or add fruit and cinnamon and make it sweet."
A one-ounce serving of low-fat cottage cheese has 3 grams of protein and only 20 calories. Like all cheeses, it's also high in calcium.
Indian paneer, Mexican queso fresco, and other types of farmer's cheese are simply pressed versions of cottage cheese. If you are the DIY-type, this cheese and its firmer derivatives are some of the easiest cheeses to make at home.
Tip: Cottage cheese can have a lot of sodium, especially when it's low-fat or nonfat. Be sure to check the nutrition label on the container before buying it. Some companies, such as Lucerne and Friendship Dairy, make no-salt-added versions.
As many know, there truly is no "Swiss Cheese" in Switzerland. In Switzerland, they make a variety of "Alpine" cheeses, with some having large holes. The most notable of these cheese is Emmentaler.
During the late 19th and early 20th centuries, many of the Swiss cheese makers began to move to Wisconsin and settled in the "Dairy Belt" of Green and Dodge Counties. Originally, they made large wheels of cheese (3 feet wide, 125 pounds) patterned after the Emmentaler of Switzerland. Naturally, these became known as 'Swiss Cheese.'
As the trend changed to larger cheese factories, a broader market and wider distribution, the call for a smaller cheese with milder flavor began to arise. This was soon addressed with the development of this much smaller cheese made with full fat milk that was aged only a few months. Although this new cheese was not that small at 5 lbs, compared to the much larger Emmentaler cheese, it is truly a baby.
A bit of history:
The driving forces in Baby Swiss evolving into a true "made in America" style cheese, were two Wisconsin cheese makers.
They were Eldore Hanni and Alfred Guggisberg, who were both of Swiss background (as can be seen by their names here).
Eldore was second generation Swiss, living in the heart of dairy country in Wisconsin, where much of the cheese making was of Swiss and German influence. Alfred moved to Pennsylvania from his home country- Switzerland.
Alfred
Guggisberg was only 16 when he began to make cheese in the mountain pastures of Switzerland (the Alps). He furthered those skills at the famous Swiss cheese maker's institute before coming to the United States in 1947. Here, he settled in the Doughty Valley in Charm, Ohio to work with the Amish farmers as a cheese maker. By the 1960's, Alfred had developed a new style of cheese, which became the Baby Swiss cheese (1968). This was patterned after the Emmentaler of his homeland, but was much smaller and made with a richer milk. His focus in doing this was to develop a milder flavor for the American palate. Today, the Guggisberg cheese company is still thriving.
Eldore Hanni was a second-generation Swiss immigrant, who began making specialty cheese as a teenager (he managed a cheese factory at the age of 17). His strength was developing new recipes and in the early 1970's, Eldore began working on a recipe for Baby Swiss. Later in the 70's, he moved to the Amish area of central Pennsylvania to establish his new dairy and work with the milk of the Amish farmers. This eventually became Penn Cheese which flourishes to this day, although Eldore has retired.
There was a similar and parallel evolution for both men in developing this cheese.  It resulted in a cheese with smaller holes and a creamier flavor from the use of full fat milk. It did not need to age as long and hence had a milder flavor.
What is a Baby Swiss:
In Switzerland, there is no 'Swiss' cheese, because there is a wide range of Gruyere and Emmentaler style cheese. Essentially, these can be divide into those with or without holes. In America, we call anything with holes Swiss Cheese. Most of these have origins in the dairy counties of Wisconsin, where many German and Swiss immigrants settled with their cheese making skills.

The "true" Swiss cheese is Emmentaler (never called Swiss), a cheese made in Switzerland under an Appellation of Controlled Origin to ensure that the integrity of the cheese is maintained. The technique, however, has been duplicated in numerous nations, leading to generic "Swiss" cheese for sale in many nations.
But this is a Baby Swiss Cheese…
The flavor of 'Baby Swiss' cheese is buttery, nutty, and creamy. The cheese melts very well, making it suitable for a wide range of dishes. The small holes also make the cheese easier to work with, since especially large holes can pose problems in salads and other dishes which involve slices of the cheese. Some delis also label baby Swiss cheese as 'Lacy Swiss,' since the cheese looks like fine lace, but those are actually made from a lower fat milk.
How is this cheese made:
This is a cow's milk cheese made with a mixture of bacteria. Besides the normal lactose converting bacteria, it contains another special propionic bacteria that breaks down the lactic acid in the cheese and generates carbon dioxide, which forms bubbles in the cheese as it ages. This is quite similar to bread dough rising but takes much longer.
The longer the cheese is allowed to age, the more complex the flavor gets, and the larger the holes will become.
One of the primary steps in making this style of cheese is a very slow conversion of lactose to lactic acid.
This is accomplished by:
Controlling the amount of culture and ripening time.
Removing whey and replacing with warm water early in the process to limit the culture's food supply (lactose).
This will result in the very elastic curd structure, and functions to hold the gas in the cheese as the holes develop. This is most obvious in the finished cheese, with round glossy looking holes and the elastic ability to bend the cheese slices without it breaking.
To make 'Baby Swiss' cheese, several things about the cheese making process are altered from traditional 'Swiss:'
The cheese is made with whole milk, for a richer, buttery flavor.
It is usually a much smaller wheel of cheese, about 5 pounds.
The use of a Mesophilic rather than a Thermophilic culture is used.
The milk may also be cut with water, which slows the bacterial activity.
Most importantly, Baby Swiss cheese is aged for a very short period of time, so that the holes do not have time to grow very large. The shorter curing time also results in a more mild flavor, which some consumers prefer.
Be sure to stop by Shisler's Cheese House and pick up some Baby Swiss Cheese on your next stop!