A Merry Christmas from all of us!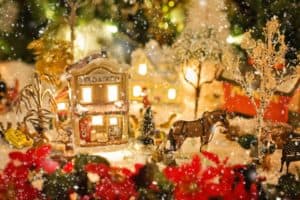 Here at Shisler's Cheese House, we are incredibly lucky to share the Christmas season with all of our amazing customers.
Cheese is a big part of our Christmas, as you would expect, but it is for lots of you too.
Did you know that in Yorkshire, in England, it is traditional to eat cheese with Christmas cake? The sweet and savory pair really well together. England also plays host to the Annual Ceremony of the Christmas Cheese. It is based on a 300-year-old tradition. In 1692, a local cheese maker provided the Royal Hospital with cheese for the war veterans over the holiday. Ever since local cheesemongers have continued to provide cheese to the Royal Hospital.
In Plymouth, Wisconsin, cheese is a part of the New Year's Eve celebrations. An 80lb pound replica of a cheese wedge is dropped at midnight to celebrate the town's cheese industry. This is known as the "Big Cheese Drop".
In Sweden, a Christmas smorgasbord of caviar, shellfish, cooked and raw fish and cheeses is enjoyed for the festive celebrations.
In Italy, the cheese will be just one of seven or more courses, often eaten over the course of many hours.
However you enjoy your cheese this Christmas, we hope that it's merry and bright.
Happy Christmas everyone!