Tag:
Troyer's Trail Bologna
Danny would be 82 tomorrow had we not lost him suddenly in 2004.  But his lagacy lives on in all that we do here at Shisler's Cheese House!
Growing Up
Dan Shisler was born in Dalton in 1937 and graduated from Dalton High School in 1955. He was one of the best baseball players that ever came out of Dalton High School. He played for Ohio University and got drafted into the St. Louis Cardinals. Then came a shoulder injury that abruptly ended his pro baseball career.
Buying the Cheesehouse
So in 1959 he came back home and bought Shisler's Cheese House, then a brand-new fledgling business, from his father, John Shisler.  Dan quickly tripled the size of this business, with hard work and ingenuity in the retail.  He was the one who developed our cherished concept of treating every customer like family.
Shipping Cheese
Dan also started the shipping division of our business to serve locals who had moved out of the area.  Back then, he had to vacuum-pack the products himself using a shop-vac and plastic bags made pliable in a bucket of hot water.  We didn't have the insulated shipping containers, the frozen gel packs, or dry ice we use to keep the products fresh today.  Trail Bologna and Swiss Cheese were the only  product he shipped, and he could only ship to the warmer climates during the winter months.  Dan prided himself in finding the right size box,  and would do a little happy dance when when we drove to Canton to drop the packages off at UPS.
The shipping division wasn't very profitable at the time due to the effort and additional costs involved.  But he seemed to do it out of a sense of service to his loyal long-term customers.
Today, we ship to all 50 states and over 30 countries year-round, and our shipping division is rapidly approaching our retail division as our primary business model.    He had the foresight into the value of direct shipping long before Amazon was born.
Legacy
Going from a professional baseball player to a cheese monger may not have been Dan's dream.  But he left a legacy of a successful retail business behind that has continued to thrive for 61 years.
We miss you, Dan.  We are sure you are cutting lots of cheese in heaven and playing baseball every day, reciting the scores of every professional game in history and still dreaming of the St. Louis Cardinals.  DJ and Dennis have followed in your footsteps in the cheese business. We still joke about your vacuum packing methods back then. we still remember you joking with the customers and keeping the landscaping around the store to perfection.
We love you, and are proud of three generations of Shislers , thanks to your hard work and dedication.  The fourth generation is already becoming active in the business.  HAPPY BIRTHDAY, DANNY SHISLER….hope you and the angels are playing baseball and still savoring cheese today.
For three generations we at Shisler's Cheese House have prided ourselves on providing the best examples of local fare to tourists and locals alike. Troyer's Trail Bologna is one of the best examples of local fare we can recommend. Our Trail Bologna comes from the fourth generation of the Troyer family, so don't be fooled by imitators!
What is Troyer's Trail Bologna?
Chunky bologna, made with coarse cuts of meat. Trail Bologna originates from the Troyer family in the tiny town of Trail, Ohio.  One of the best flavors of Amish Country! Enjoy the smoky taste of Trail Bologna.
Trail Bologna was named after Trail, a village in Ohio that is too small to have a zip code of its own! The Troyer family has been making their quality wood-smoked Trail Bologna here for four generations, starting in 1912, when Michael Troyer created a unique blend of special seasonings to make his now famous all-beef Trail Bologna. The family continues the tradition of excellence to this day by making literally tons of savory treats daily.
How should I eat it?
Troyer's Trail Bologna great served as part of a cheese and charcuterie board. It is usually thinly sliced and served with cubes of cheese. We recommend that it is best enjoyed with Swiss Cheese, Baby Swiss Cheese, Cheddar Cheese, or Hot Pepper Cheese for those with a more daring palate. You can, of course, enjoy it in sandwiches or wraps as well. If you want a real treat, make a Swiss cheese and bologna sandwich and pour yourself a glass of Malbec! Troyer's themselves recommend a salad of lettuce, spinach, plenty of tomatoes, onions, and croutons along with some shredded Swiss and Troyer's, paired with French dressing. A brilliant lunch!
Troyer's recently added Trail Bologna infused with cheddar cheese or with hot pepper cheese to their product offering.  We are proud to carry both. When warmed, the cheese melts, creating an extra delicious treat.
Can I give it as a gift?
Yes! We think this is a great gift for someone that you want to share some local flavor with or anyone who has lived in Ohio. As it's so popular, we offer it in several of our gift boxes.
Our classic combination box includes a 2 Lb. Baby Swiss Wheel, Troyer's Trail Bologna Ring, 8 Oz. Colby Cheese, Shisler's Private Label Mustard, Carr's Crackers, and Assorted Chocolates.
You can also try it with a simple cheese selection, which includes a 1 Lb. Troyer's Trail Bologna Ring, 3/4 Lb. Wheel of Colby, 3/4 Lb. Wheel of Farmers, and Assorted Chocolates.
For more extravagant gifts that include Troyer's Trail Bologna, try the Amish Country Sampler Gift Box or our recent addition, the Shisler's Cheese House Deluxe Gift Box. If you would like to create a hamper of your own choosing, simply get in touch and we'll do what we can to help.
Have you tried Troyer's Trail Bologna? How do you like to eat it? Let us know in the comments below!
Very Nice Article about us by Dan Starcher of the Daily Record:
ORRVILLE — The small roadside store at the corner of U.S. Route 30 and Kidron Road, known as Shisler's Cheese House, has served as a landmark to cheese connoisseurs, including comedian Bob Hope, for 60 years.
To celebrate, owner Rita Shisler is having a party. Festivities at the store, located at 55 Kidron Road, Orrville, started Friday and continue Saturday. There will be free bratwursts, prizes, music, face painting, a bounce house and, of course, cheese samples from 8 a.m. to 6 p.m.
"I remember picking up the phone one day and the caller said, 'This is Bob Hope and I would like to order some Baby Swiss,'" said Rita Shisler. "I didn't believe it, but the check came with his name, address and signature. I talked to him four or five times per year, every year, until his death. After Bob died, his wife would call and order cheese until she passed away."
Shisler didn't exactly know how Hope heard of the store, but she kept copies of his checks and his signatures as mementos.
Another big-time order came courtesy of the owner of the NFL's San Diego Chargers.
"The team owner of the Chargers came in and had some ham," Rita recalled. "He fell in love with it. He then had me ship them to every team owner across the United States. I did that for years. We packed them in coolers and enclosed a card. Even as new owners came along, we would send to them. He wanted all of the other owners to have some Streb's Ham."
Another story, Rita recalled, was when Grandpa John Shisler was taken to jail for operating the business on Sunday. "He purchased the store from Fred Bieri in 1958 and back then there was a law, the blue law, that you could not be open on Sunday to conduct business."
An angry John Shisler said that the government would not tell him when he could work and when he couldn't. The story goes that the local authorities sent a person into the store to buy some bread, then returned to arrest him after the sale was made.
"The family went to post bail but he refused," said Rita. "They finally released him after a couple of days."
John Shisler's son, Dan, took over the store in 1959 and, after he and Rita were married, he went to work elsewhere and Rita took over operations. She has been growing the operation ever since. Dan passed away 14 years ago.
At 72 years old, Rita Shisler isn't slowing down. In fact, she is as busy as ever serving in various civic organizations, but she is slowly turning business operations over to her son, Dennis, while her other son, DJ, runs a store in Copley.
Dennis served in the United States Marine Corps, attended college and worked in the corporate world for a number of years before returning to the family business.
"I never thought I would be here today. I never wanted to come back. I never wanted to live here. I never wanted anything to do with a small town," said Dennis. "But after my daughter was born, I reconsidered."
Since coming to work for his mother, Dennis has focused on modernizing operations and building the internet ordering component of the business.
"She has brought the store to this level and she is wonderful for public relations," Dennis said. "She really brought this place to the next level from a marketing standpoint. She built up the retail business, and I want to expand it online and focus on website sales."
A steady stream of loyal customers were pouring in on Friday as Rita was celebrating six decades of business with friends and family while offering bratwursts and cheese samples to customers outside.
"I have been making the trip here from Massillon for more than 30 years for Swiss cheese," said Robert May. "Everything they have is great and the people are so friendly."
Linda Nussbaum of Orrville has been frequenting the store for 40 years.
"We used to stop here and get cheese on our way to our grandparents' house nearby," said Nussbaum. "We would have it eaten before we got there."
Rita attributes much of the success of the business to her mentor, Harold Freedlander, of the former Freedlander's department store.
"I was struggling with the business and I went to SCORE (service corps of retired executives), and he became my mentor," Rita said. "He helped and guided me and that is when things started to connect and the business began to turn around. I thank Harold Freedlander from the bottom of my heart."
Visit Shisler's Cheese House online at www.shislerscheese.net and www.wordpress-436460-1531479.cloudwaysapps.com for additional information.
The original article in The Daily Record can be found here.
Here at Shisler's Cheese House, we have a number of products on sale which will help you create an amazing Bologna spread for any occasion.
This recipe is super easy to create and at our store, we have high-quality bologna and cheese which would be perfect for this spread.
The bologna recommended for this recipe is Lebanon Bologna. You can buy 12 Oz. for only $6.29 at Shisler's Cheese House, be it in store or on our website. Our Lebonan Bologna is a type of cured, smoked, fermented, semi-dry sausage. It is similar in appearance to Salami, just slightly darker in color. The flavor is distinct and tangy, which makes it delicious.
Also included in this recipe is a cheese, we recommend you use our Colby cheese. However, the choice of cheese is entirely yours and you can look through our wide selection!
Recipe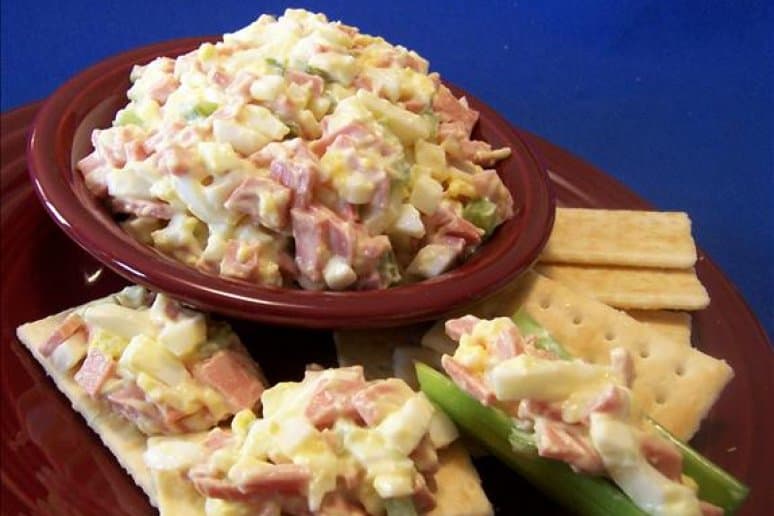 What You Need
12 Oz. Lebanon bologna (Shisler's Cheese House)
2 Oz. of Cheese (Colby from our store is recommended)
6 hardboiled egg, peeled
1 cup Miracle Whip
What To Do
Cut the bologna and cheese into large chunks.
Using a meat grinder, grind the bologna, cheese, and eggs into a large bowl.
Add Miracle Whip and stir until mixed well.
Serve on crackers or make a sandwich with the spread.
On the Map…
Amish Country is comprised of several northern Ohio counties, its biggest population residing in Holmes County, which is where approximately half of Ohio's Amish families reside; research indicates that Holmes County may be the first county in the nation where the majority of residents are Amish. Other neighboring counties having Amish communities are Wayne, Tuscarawas, and Coshocton Counties. Visitors to these regions may also note an Amish influence in Ashland and Knox Counties.
Why Visit?
Why is Amish Country one of the most sought-after and visited places in the state of Ohio? The answer is simple, but for many reasons. Amish Country truly portrays the "blue collar, working class" style of life where nothing is taken for granted and every resource is used to culminate Earth's natural products. Another reason to visit Amish Country is its sheer, flawless beauty, ever-changing with the seasons. It is a very beautiful country that gives us a glimpse of life before the infrastructure, transportation networks, airline networks, and other technologies of today. For those looking for a peaceful escape from the "hustle and bustle" of daily life, they will find it at the heart of Amish Country. Not to mention the Amish country Ohio cheese that is always delicious!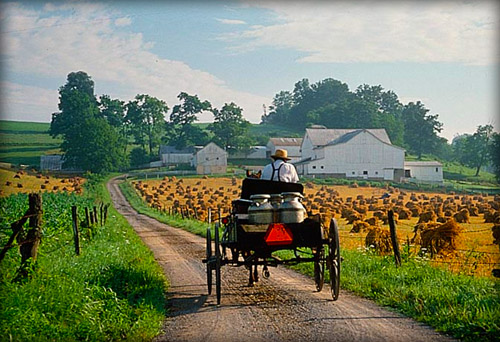 Some major Amish communities include…
Berlin
Charm
Fredericksburg
Millersburg
Sugarcreek
Walnut Creek
Winesburg
A Look Into The Past
The Amish lifestyle is a good reflection for us to look into our own past. This lifestyle provides us with a great opportunity to go back in time when technology and machines were not at the forefront and when life was slowed down which enabled us to take pride in the work our hands and minds could accomplish.
With the rush of new technology that has taken our world by storm in the last handful of decades, the Amish found ways to thrive through this mass technology movement and remain true to their ways of life, not letting these waves of technology and machines take away a person's ability to work with their hands and reaping the fruits of their labor. The most iconic image of Amish Country is the "horse and buggy" as once you've seen this method of transportation, you'll know you're in a world where pride in handiwork far exceeds the capacities of technology, and that is a wonderful thing and a delightful change of pace in world otherwise dominated by technology and machines.
A Taste of Amish Country in Ohio…
Unless you're from Amish Country or have taken trips to take in the life and culture of the Amish lifestyle, then you may not entirely have a solid understanding or appreciation of Amish folks and their lifestyle. As touched on earlier, Ohio has a number of counties with large populations of Amish households with the number continually growing. With Holmes, Wayne, and Hardin Counties leading the way in Amish populations, it is believed that in the next 4-5 years, Holmes County will have more Amish populations, than English (as they term "non-Amish" folk).
There are four orders of Amish lifestyle; each being entirely different from the other… the Swartzenruber Amish, the Andy Weaver Amish, the Old Older Amish, and the New Order Amish. It is the Old Older Amish that plays the traditional role of foregoing technology, instead using the former ways of hand and tireless work while using the horse and buggy for transportation.
There are two main religious sects that dominate the Amish lifestyle, Mennonite and Amish. With church districts made up of around two dozen families, Amish families continue to grow. Amish children are less likely to leave, but remain a part of their community or relocate to a neighboring Amish community. It is not uncommon for one farm to have multiple generations living and working on the same farmstead.
Large farms were once at the center of Amish life, but that has slowly been evolving in a different direction. With the growing number of Amish populations across the region, along with increasing land prices, purchasing farmland has become challenging. This has led to a change in societal development. In order to adapt to this change, smaller-sized farms are replacing large grain farms and are more common. Vegetable production produces enough for a number of families. Also allowing for these vegetables to be sold to the public as a means of additional income. These sales are usually done through auction sites now.
Although the Amish may disagree on certain issues, there are a number of things they do agree on. One of these ideas centers on a tireless work effort with their practices not having any influence on the modern world of advancing technologies. Essentially they stay true to their roots.
Amish Farmland…
Amish farms continue to be the apex and heart of Amish Country. While the number of farms has not increased nearly to the extent that the Amish population has. Many families remain on the family farm by adding housing, as the children grow up.
In recent years, a movement from agriculture to more trade work has transpired. Research illustrates that around 17% of Amish men continue to work on farmland while the remainder work as skilled craftsmen. Hardin County remains the only county where a majority of the men continue to work on farmlands.
The Road To Amish Country Ohio Cheese…
The road to Amish Country was once a less traveled route. However, in recent years, this road has since become well-traveled and explored. On your way to Amish Country, be sure to stop by some iconic and very well-known stops. From The J.M. Smucker Company known for their iconic jams, jellies, and other delights to the Kidron Auction, Ohio's oldest auction, since 1923 to Troyer's Pantry, an Amish bakery, you can't go wrong experiencing Amish tradition at any one of these stops.
As you're heading to Amish Country, along the road to Amish country, be sure to stop by a small, family-owned store along US Route 30 in Orrville, Ohio, Shisler's Cheese House. 
Shisler's Cheese House is a family-owned specialty store! We focus on traditional culinary treats ranging from a wide array of imported and domestic cheeses. Also, we provide meats, candies, cookies, and other delicious treats for an on-the-go meal or delicious snack.
Got your fill of cheese, meat, chocolates, and other decadent goodies? Let Shisler's Cheese House be your one-stop shop for your ultimate "Road To Amish Country" experience!
A Collection of The Best Sweet Treats for The True Chocolate Lover! 
Heggy's Candy Company has built a rich tradition of premium hand crafted chocolates and candies throughout the United States for over 9 decades. Founded by Ben Heggy in 1923, Heggy's Chocolates remains one of the premiere candy companies in America.
Over the years, Heggy's Chocolates has remained a family owned and operated business and today they maintain a high level of commitment to their customers and the community.
While the art of handcrafting quality candies and chocolates has been discarded by most candy producers, Heggy's Chocolates has withstood the test of time. They still use the care and patience necessary for Heggy's Chocolates unique savory taste.
Heggy's Chocolates has built a devoted following of candy lovers in the US over the years, and we at Shisler's have created a special Chocolate Lover's Valentines Gift Box made primarily from Heggy's Chocolates.
The Valentine's Chocolate Gift Box Includes:
Heggy's Solid Milk Chocolate Heart
Chocolate Cheese
Heggy's Milk Chocolate Turtles
Chocolate Covered Fruit
 
Custom designed for the sophisticated lady!This package includes

Havarti Cheese

, Heggy's Solid Milk Chocolate Heart, Strawberry Cheesecake Swirl Fudge, Strawberry Caramel Creams, and Yogurt Covered Cranberries.  Best Enjoyed with a glass of wine and a warm hug!

 

For the man in your life.  Flowers and candy just don't work as well for men.  So why not let him indulge in what he truly loves!  This collection includes a ring of Troyer's Genuine Trail Bologna, Ohio Swiss Cheese,  Pepper Jack Cheese, Clem's Hot Pepper Relish, Shisler's Private Label Mustard, and Carr's Table Water Crackers!  

 
[youtube=http://www.youtube.com/watch?v=WgNHGwlyEtM]This is our Christmas radio spot from 2009, during Matt Patrick's last two weeks with WKDD. Matt may be semi-retired, but his words here still ring true.
Have you ever heard of Trail Bologna?  We used to think everyone had.  Passers-through never seemed to be able to get enough of it.  But then we realized that it was only available in the local area.  We have seen imitations in places like California and New Jersey with clever names like "Ring Bologna."  But this is a perfect example of one of those cases where nothing even comes close to the original: Troyer's Trail Bologna.
Trail is capitalized because it is named after the tiny town of Trail, Ohio.  Trail is so small that it does not even have it's own zip code.  It shares a zip code with the nearby town of Dundee, OH, and population statistics are not even available.  Trail was so named because SR 515, the main road through the town, was originally a trail created by American Indians before the European settlers moved to the area.  About the only thing in Trail Ohio today is the original production facility where Troyer's Trail Bologna is made, complete with a general store where enthusiasts can buy all of the products Troyer's offers, along with other local fare.
Michael Troyer began producing this bologna in 1912.  He used a special blend of seasonings and unique wood smoking process to develop this chunky beef bologna with a rich smoky flavor.  It was originally hand stuffed into casing and rolled into its hallmark "ring" shape.  It is a common misconception that the Original Trail Bologna was made from Venison (deer meat).  It is illegal to sell the meat of wild game, so the Original Trail Bologna is all beef.  But the facility will process deer brought in by hunters using their unique methods.  There is also a rumor that Michael Troyer purchased his recipe for $25 from another family in Trail named Weiss, who had already been producing the now famous bologna for some time.  But that has never been confirmed.
Today, Kenny, Kevin, and Darrin Troyer run the facility with the same standard of quality that their great grandfather did nearly one hundred years ago.  Of course the facility has evolved.  The Trail Bologna is no longer hand stuffed and modern machinery has enabled them to keep up with the ever-increasing demand.  The facility now produces an average of 50 tons of Trail Bologna per month, doubling that during the holiday season.  But the standard of quality that made Troyer's Trail Bologna famous has never faltered.  All three brothers are still highly involved with the production process.  They now offer their Trail Bologna infused with locally made cheddar cheese and hot pepper cheese.  They also produce it in sandwich size logs suitable for slicing and enjoying on sandwiches.  They even make a Turkey Trail Bologna for their more health conscious customers.
Troyer's Trail Bologna is best enjoyed with Swiss Cheese, Baby Swiss Cheese, Cheddar Cheese, or Hot Pepper Cheese for those with a more daring palate.  Local and tourist taste buds are intimately familiar with the unique flavor of Troyer's Trail Bologna.  Locals who move out of state often complain that they cannot find it anywhere else.  It can be very difficult to find outside of the state of Ohio.  Fortunately however, for those who are web-savvy, one local merchant is offering it nationwide over the internet at  https://cheesehouse.com/troyers-trail-bologna.aspx
Enjoy the smoky flavor of Troyer's Trail Bologna, an Ohio Amish Country original!